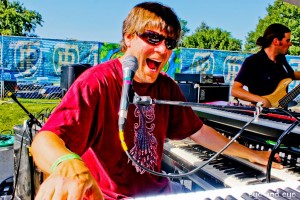 Photos by Nicholas Stock & Ben Wilson's eye and eye photography
The Scene: The parking lot outside of the Boulder Beer Company was taken over this past weekend by over 30 different breweries and one funky band headed by Kyle Hollingsworth of the String Cheese Incident. This was the second year Kyle has hosted this amazing event in order to raise funds for the Conscious Alliance. Not only was Kyle in charge of rocking the house, he was also showcasing his brand new brew from the Boulder Beer Company; the Hoopla Pale Ale.
The event was set to take place between 2 and 6 pm, Saturday afternoon. A $25 ticket granted you a "Kyle's Brew Fest" pint glass, 2 beer tickets, unlimited tasting, a free meal, and the opportunity to hear Kyle Hollingsworth shred his keyboards with the rest of the Kyle Hollingsworth Band.  Not to mention the opportunity to enter into silent auctions for a ton of really cool stuff. This was all in the name of the Conscious Alliance; a Boulder based charity devoted to the distribution of food to impoverished communities across the United States.
Kyle's Brew Fest: Despite showing up an hour late and still in recovery mode from Shpongle the night before, I was going to try my best to indulge in as many delicious craft beers as possible in the 3 hour time span I had. Those 3 hours turned out to be just enough time to get my fill of hoppy goodness and funky tunes. At first I didn't really have a plan of attack, but knew things would most likely begin to get wild as the booze flowed freely. The lack of shade, combined with the blistering heat that came from standing on hot asphalt meant that everyone was sure to get a little loopy. The free burger was definitely a lifesaver and a key to success as I wanted to get my money's worth of delicious barley pop.
I figured "Hey, we wouldn't be here if it wasn't for Kyle so I might as well see what all the hoopla was about." Naturally, I started off with one of Kyle's Hoopla Ales. Which was delicious, to say the least. Kyle passionately explained his love for brewing beer and stated that his goal with Hoopla was to create a beer rich in hops that people could drink all day in concert parking lots, but still stay awake for the music. I definitely took this to heart as I worked my way from beer tent to beer tent. After a Prime Time Pilsner from the Mountain Sun Brewery, and a Hoppy Boy from Twisted Pine, I decided it would be smart to pick a flavor and stick to it, since after all, I was here to review the music and wanted to stay awake for it.
I found it funny they gave you two tickets at the beginning for full beers, but provided unlimited "tasters." That basically meant you can have your glass filled half way as many times as your heart desired.  In that sort of heat, you only really needed half of an ice cold beer at a time so it wouldn't get warm by the time you are finishing it. Needless to say, this hop head was in absolute heaven for those few hours. It was no surprise to me why this event sold out a day in advance. Even so, there were still countless people outside the gates with their fingers in the air hoping someone would come by and provide them with a miracle ticket to get inside.
Kyle Hollingsworth Band: Kyle and the band, including Motet Bass player Garret Sayers and Everyone Orchestra conductor Matt Butler, took the stage around 4 o'clock and got right to business after a short introduction by Kyle himself.  They started the set off with a funky Kyle original named "Let's Go Outside," a very fitting way to kick off the festivities under the unbelievably hot sun. I found a spot on the grass behind a few beer tents at first to kick off my shoes and boogie a little. That soon changed once a majority of the crowd filled the parking lot area in front of the stage and began to do damage to the concrete with their dance moves; I had no choice but to join in on the fun.
It was easy to tell that Kyle was having the time of his life up there behind those keyboards. He couldn't stress enough how happy he was to combine his two favorite loves; brewing beer and playing music.  Next he even played a song devoted to his favorite beverage that admittedly was "silly" but still a fun ditty to play. He explained how the song went in the key of B, E, E minor, and then Rest. Spelling out the four letter word we were all celebrating.  The crowd participated in screaming out as Matt Butler held up two different signs with the words "Hoop" on one and "La" on the other. It was truly and organic an wholesome event put together wonderfully in every way. Everyone had ear to ear smiles and pint glasses full of love. Really an amazing event that I hope lasts for years to come.
Kyle ended his set with what was my favorite part of the afternoon; a very funky cover of the Talking Heads favorite "Naive Melody." You could tell most folks were becoming rather drunk by this point. The free "tasters" turned into full pints as the beer vendors began to get rid of as much beer as they could. Kyle made sure to thank everyone involved and the crowd made sure to not let him leave the stage until he drank one of his own beers that he was so proud of. Much to everyone's delight Kyle decided to come back for a short encore including a heartfelt song he wrote for his daughter called "All I Need." Then he ended it with another original number "Way That It Goes."
I walked away from the event feeling refreshed and fairly inebriated, but that's just the way that it goes. Kyle's brew fest 2011 was by far one of the most fun events I have been too this summer and cannot wait for what he has in store for us next year.  Maybe a larger venue with a little more shade, but I couldn't really complain much about having delicious world class beer shoved in my face at every turn. The man is clearly passionate about everything he does and I think it's a real testament to his character that he is willing to put on such a spectacular concert for such an amazing cause. It made me proud to be a part of this beautiful scene and even more proud to call the Front Range my home. As the time neared 6 pm the vendors with beer remaining were practically begging for people to fill their glasses up one last time. I want to thank Dan at the Dillon Dam Brewery for my last beer.
I showed up alone, but left knowing I had made countless new friends. It was a great feeling, almost comparable to a family reunion. Very special thanks go out to Kyle Hollingsworth and the Kyle Hollingsworth Band, along with everyone at the Boulder Beer Company and every other brewery involved. I'm sure the Conscious Alliance made out like bandits and it warms my heart knowing that all it takes to feed a few families in need are a group of like minded individuals working together to bring good beer and great fun to the masses.
Energy: A
Sound: B
Musicianship: A
Stage Presence: A
Set/Light Show: N/A
Overall: A
I rode my skateboard from school in 7th grade to my buddy Vince's house where he put on the song "Perfect Government" by NOFX and I was hooked. The next day I bought the album Duh by Lagwagon. The next year I saw Against Me! at the Starlight Theater in Fort Collins, my mom dropped me off. I've since devoted every waking hour to anything done with passion. My speakerbox bumps everything from Lil' Wayne to Pablo Casals. I was never very good at making music, but I am damn good at listening to it. I've been filling up yellow notepads with random thoughts and misspelled words for as long as I can remember. I enjoy whiskey of all sorts, Newport cigarettes and the company of my family. I've got an addiction to run-on sentences that I'll probably never cure. A solid handshake with a stranger who has become a friend over a few beers means the world to me. You'll often find me wide eyed and wandering with an ear to ear grin. I live for funky break beats and spreading the love.