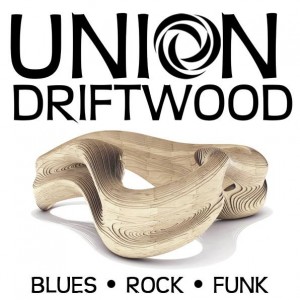 Union Driftwood, the ever-fascinating Colorado native band, is just picking up their pace. The band debuted in 2011, and even though members have shifted, the current line-up seems to be taking them in the right direction. As a band, they play because they need to. For them it's more than a hobby, or a passion, it's true love.
Last week, two of Union Driftwood's band members, Taylor Orr and Dave Brown, sat down with Lilia Scudamore to answer questions about the past, the present, and future for the band. They shared some pretty funny stories about things that have happened to them as musicians and are still scratching their heads as to why people want to offer them stuff to eat while on stage performing!
Union Driftwood will perform from 4:30 until 5:15 on the outdoor stage at Park House (1515 Madison St, Denver, CO) this Saturday, August 1st.  Tickets are $10 in advance and available now – PURCHASE HERE.
Lilia Scudamore: How did you come up with your band's name?
Taylor Orr: I'd been way into a song by The Band called "Acadian Driftwood." We'd sat around for weeks trying to come up with terrible names with lists and lists of the worst names you could ever think of. Finally the word "driftwood" came to me, I said that and our first drummer who was with us at the time thought of the word union from another list we had. The two words just came together.  It kind of has some symbolism to the Roots Rock and old music from when our country was still the union and the confederacy, symbolizing the beginnings of the country.
LR: How would you describe your sound?
TO: It's always a tough question as we don't necessarily want to have to categorize our music, but we know people need that. People need to be able to identify with a specific type or genre of music, otherwise it's hard to get a following. The audience wants to know what the band's sound is so that they can relate to them. Even if the sound is influenced by a lot of different types of music, audiences will still want to classify your band as something.
If we had to categorize our music, I'd say definitely Blues, Funk, and Roots Rock. We try to interpret the Blues in a new way and put some jam in there. You could say it's more like "blam," Blues and Jam mixed together. Influences like Little Feat, The Grateful Dead, Rolling Stones, Freddy King, Otis, early Jazz, Ray Charles, soul singers like Jackie Wilson, Wilson Pickett, and the Allman Brothers are a huge influence. I'd also say all Jambands like the Grateful Dead, Phish, as well as Funk and even New Orleans music.
LS:  That pretty much answers my next question, but do you have any other major influences on your band?
Dave Brown: Honestly it's hard to really narrow it down because I'm all over the place. I consider two different types of music. There's good music and bad music. Good music, to me, is made for the right reasons like for the love of it, and bad music is made for reasons like money. I'll pull from anywhere like old school Jazz, to Classic Rock of the 60's, to D'Angelo. It's kind of all over the place.
TO: I tend to go back to Clapton, Allman Brothers, Grateful Dead, Rolling Stones, James Brown, that kind of stuff. The Black Crowes are also another major influence for us.
LS: Do people in your band have different tastes?
DB: Absolutely, but there's enough common ground with all the stuff we just said that it works. Like our keys player Josh who just joined up with us, he comes from a more Jazz and Funk background, but obviously he works with the style of the band. We all have our kind of fringe stuff that probably others in the band don't like but, for the most part, there's enough common ground, which is nice.
TO: The Jamband thing is pretty common and we all like the Blues, but everybody's got a little bit of a different taste. I was also thinking Tedeschi-Trucks is a huge influence for us. Sharon Jones & the Dap Kings, new Blues and Soul that is kind of being done in a new, fresh way. It reminds me of that old Delaney & Bonnie and Eric Clapton stuff.
LS: How did you guys get started playing together?
TO: The band has been around since 2011, but the previous lineup had fallen apart. We were trying to start a side project with another drummer, and then that fell apart. Dave and I stayed together through all of it. We saw eye-to-eye on a lot of stuff and knew that we were looking to do something unique. So, we found these other guys over the last year and things have just fallen into place.
LS: Where was your first gig together and how did it go?
TO: For this current lineup, it was the Park House in May of this year, and it was a phenomenal show. I had a great time. Park House is one of our favorite places in Denver. We love them. There were a ton of people there. We played a 2 ½ hour first set.
DB: We were supposed to play nine to twelve. I think we started at 9:30 and we didn't stop our first set until twelve.
TO: We're definitely not in it for the money. We're in it because we love it.
DB: The crowd was loving it. Usually I have to take a bathroom break at some point, but for some reason I didn't and we just kept going.
TO: The more people who show up, the less I want to stop. I'm kind of into playing all night.
LS: What's your favorite memory of playing together?
DB: Let's go with Park House. We're still fresh, so we're looking to get out more. It was an awesome night for everyone.
LS: Do you have a worst memory of playing music live?
TO: In recent memory? I've been playing shows since I was 15, and now I'm 33. So, in recent memory, since I've been out here, the worst show I ever played was definitely at Tennyson Tap. It was Union Driftwood's first show as a band in August of 2011. It was a mess. I think I kicked over some cymbals at one point. Sorry Tennyson Tap. We'd love to come back and redeem ourselves. I've seen a lot of crazy stuff, but that's probably the worst I've ever played, or at least the worst that I could be blamed for.
DB: For me, I was playing saxophone, which was my first instrument. There was a middle school field day and the whole school was outside. I was playing a James Brown tune and totally botched the horn line every single time it came around. It kind of set in a stage fright, in general, for the next ten years of my life for whatever reason. Luckily, I eventually got over it.
LS: Are you playing any shows coming up that you are particularly excited for?
DB: The Firefly Autism Road to Blues & Brews that is coming up.
TO: Yep, we're pretty excited for that. Honestly, some of the other bands that we're playing with are some of my favorite bands in Denver and I can't believe we got picked to play with them. Still being new on the scene with this current iteration of Union Driftwood, we are thrilled to have this gig. Hopefully we meet some people, network, do our best, and see what happens.
DB: I'm essentially new to doing booking, and so it's hard to get that initial traction. One place got back to me within 24 hours with all the dates they had available. So, I got back to them within 24 hours and now I haven't heard from them in three weeks. One of those dates they had available is tomorrow. But, it is what it is. You've got to play to get gigs and you get gigs through playing.
TO: We're looking to play at The Other Side. Places we have played in the past and will be playing in the near future are The Other Side at Cervantes', The Park House, Quixotes, Lincoln's Roadhouse, The Oriental, Local 46, maybe Highland Tap & Burger. We'd love to be opening for any of the bands that are involved in the Road To Blues & Brews. Like Hornbuckle, we opened for him at The Oriental. They're amazing. I love their band. Fox Street is another one of my favorite bands. We'd love to play with them at some point.
DB: I think it's just the initial getting the foot in the door. I think we have a lot of potential and a good attitude.
LS:  What is the strangest request you've had at a show?
DB: I was at Lincoln's Roadhouse with a previous band. We were a New Orleans style Jazz Funk band, so requests by the general public were pretty much not in our repertoire. This guy was really, really, really interested in hearing "Sweet Home Alabama." He threw a $20 in our tip jar and we said, "no." He threw in another $20, and we said "no." Finally, $100 later, he got his wish and we played the song.
TO: We've gotten some strange requests. We've gotten Rap requests at a Blues show. We've gotten heavy metal requests at a Blues show. Country songs, weird stuff that just doesn't make sense. These people are inebriated. The strange requests definitely come from the intoxicated crowd.
DB: Sometimes they think you're a jukebox. In a perfect world you would be. You'd make it happen for them. You want your customers to be happy, but at the same time you don't go into a grocery store and ask for a 2×4. They just don't have it there. That's the wrong place.
TO: I've had weird stuff. I've had people beg me to eat stuff on stage that I don't know what it is. "Here, just eat this. Come on man, just eat this." Yeah, probably not a good idea to take candy from a stranger [laughter]!
LS:  What was the first song you wrote together as a band?
TO: "Pepper." It's a true story about a girl I was living with for four years. I was pretty in love with her. I came home one day from work and the house was empty. At first, I thought I'd been robbed, but then I found that there was a 6-page letter on the counter. She proceeded to say how she was moving to Korea. There was nothing I could do. I was in shock. Half the house was empty. That song is really just about coming home to that.
LS: Have you released any of your material yet?  If not, do you have any plans to?
TO: We've released a couple originals and we have a couple on our website at uniondriftwood.com or on Facebook. Those were recorded with Kyle Zender at Zender Studios. He does great and we honestly might be looking to record with him again in the Fall to do a full-length album.
LS: What is it you guys are most excited about in your careers right now?
DB: I've had a dry year of going back and forth with really flaky people off Craig's List just trying to get things started. Doing a lot of learning material, like epic amount of side work that hasn't led to anything. So, I'm really excited to be having the songs finally go to use, having a lot of fun, having this be exactly what I'm looking for, and to be able to bring that out into the Denver scene and finally be proud of what I'm doing.
TO: I'd say as a band, we feel really cohesive as a unit right now. I could see myself sitting in a van with these guys for 16 hours. Actually, doesn't sound that fun when I mention it, but where we're at, we're just all excited to get going. Personally, I'm having some success with the songwriting as well. I wrote a song called "Seventeen" that I gave to my buddy's band Ghost Town Blues Band from Memphis. Three of my original songs are on their album Hard Road to Hoe, which they recorded at Ardent Studios, and "Seventeen" was actually in the top 50 for the Tennessee Roots Music Report Song Chart. Gives me a little bit of validation that you should stay up and write another bad song [laughter] and see what happens.
DB: They're all bad songs according to Taylor.
TO: Yeah, I'll let you know when I write a good one!
UNION DRIFTWOOD
Firefly Autism "Road To Blues & Brews"
Saturday, August 1st 2015
Park House – 1515 Madison St, Denver, CO
Set Time: 4:30 – 5:15pm
Tickets: $10 in Advance
PURCHASE HERE