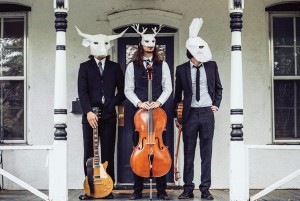 Ridiculously talented with a relentless passion for music, Augustus is a band worth knowing about. Mixing sounds of Bluegrass, Folk, Blues and Jazz, this trio will leave you realizing that while you may think you know what each of these genres entails, you've never heard anything quite like what they have to offer. You're going to like it!
Ecstatic to have been chosen out of nearly 800 entries to play alongside some of Colorado's amazing local talent at the August 1st Firefly Autism Road to Blues & Brews competition, Colin Kelly, Jesse Wright and Jim Herlihy took some time during their weekly practice to tell stories and answer questions from Denver Writes' young writer Jose Ignacio.
Augustus will perform from 1:00 until 1:45 on the outdoor stage at Park House (1515 Madison St, Denver, CO) on Saturday, August 1st.  Tickets are $10 in advance and available now – PURCHASE HERE.
Jose Ignacio: How would you describe your sound?
Jesse Wright: That's the hardest question that we try to answer. I think the best answer that we could give is that we blend a lot of other styles from Jazz, Blues, Folk and Rock, and take different parts of them and put them all together.
JI: So, it's like a mix of a lot of different sounds?
JW: Yes, you could say that.
JI: How did you guys get started playing together?
JW: We all knew each other from playing music at open mic nights in Boulder. We kind of bumped into each other one night and decided we'd like to get together and play just for fun. We started playing, having fun, and were enjoying it, and then we decided to become a band and started playing a lot more.
JI: Does anyone in the band have any formal musical training?  If so, what is it?
JW: Yes. Colin and I both went to college for music for a while. I went to Berklee College of Music in Boston, and Colin went to Castleton State College in Vermont. I started playing the cello in 4th grade and became pretty serious about it throughout middle and high school.
Colin Kelly: At Castleton State College, I studied Jazz while I was there and then I also did a concentration in classical guitar for a little while.
Jim Herlihy: I'm a self taught musician and picked up the guitar, my first instrument, when I was 18.
JI: What's your favorite memory of playing together?
JH: That's a cool question. Probably our show at the Fox Theater, at least for me. We played the Fox Theater in Boulder at the end of May this year and it was probably our biggest show we'd played up until that point. The sound was really amazing. They have a really professional crew that worked with us. So, for me personally, that was my favorite experience.
JW and CK: I think that's probably the best. Absolutely!
JH: The Fox Theater is a big venue in this area called The Hill by the University of Colorado Boulder. It's a big stage, definitely the biggest show we've been at with tons of lights and big speakers. It was just a pretty amazing experience.
JI: What is your favorite song to cover?
CK: Probably "Stop Breaking Down" by Robert Johnson. It was one of the last songs he ever recorded. He's an old Blues guy. He started recording in the 1920s, or 30s. Definitely a long time ago.
JI: What is the strangest request you've had at a show?
JW: I don't know if we've had any strange requests that we can repeat here [laughter]! It's not that strange, but a guy came up onto the stage once and said it was his girlfriend or wife's birthday. I was trying my best to remember how to play the Happy Birthday song. So, I played "Happy Birthday" and everyone sang along at the bar. That was pretty fun even though I don't think it was that strange.
JI: Still kind of strange, right? So, did he ask it during a show?
JW: Yep. During the show. Between two songs. Oh, I guess we also get a lot of people yelling "Freebird" at us and I never know if they're being sarcastic or not.
JI: What is your favorite venue in Colorado, and why?
JH: Red Rocks. It's such a unique place. I'm from the East Coast, Pennsylvania, and there's nothing like that there really. Nothing to that magnitude. So many good bands come through Colorado and they always play Red Rocks. They have such a good time and sound great. It feels like a really unique place to be. The acoustics are unbelievable too.
JI: If you could play on any stage in the world where would it be?
CK: I would want to play The Beacon in New York City because it's just the coolest little, well, it's not really little, it's a national venue, but it's that there's not a bad seat in the house. I've visited it a couple of times and there's just not a bad seat, the sound is amazing, and it's such an iconic place. I've seen some amazing shows there. That's why I'd say the Beacon.
JI: If you could open for any band or artist, who would it be and why?
JW: We'd have to think about that. Colin says Wilco, Jim says Radiohead. But, I think we'd have to go with Radiohead.
JI: I don't know Radiohead, but why Radiohead?
JW: Just because they're amazing. They've been pretty influential for us, for each of us. We're all pretty enamored by their music and really feel like they're true artists.
JI: Can you name a few local Colorado bands that are really impressing you right now?
Augustus (everyone chiming in): The Yawpers are really cool. We're also really liking Paul Kimbiris and Whiskey Autumn out of Boulder, The Haunted Windchimes out of Pueblo and Chimney Choir out of Denver. Gregory Alan Isakov, he's pretty amazing. There's just a lot of really good bands in Colorado, so it's tough. We can go on forever because there are so many good ones!
JI: What are you guys most excited about in your music careers right now?
JH: We just put out our second EP, called Into Frames. It came out last Tuesday. It'll be available for purchase at the end of August, but we just put it up to stream on Soundcloud. It feels really good to be sharing it with everybody.
CK: We're also super excited to be included in the Road to Blues & Brews competition. It's definitely an honor to be selected out of 800 bands. All the other bands we're competing against are pretty phenomenal. It's going to be fun just to be a part of it and we're looking forward to it.
AUGUSTUS
Firefly Autism "Road To Blues & Brews"
Saturday, August 1st 2015
Park House – 1515 Madison St, Denver, CO
Set Time: 1:00 – 1:45pm
Tickets: $10 in Advance
PURCHASE HERE