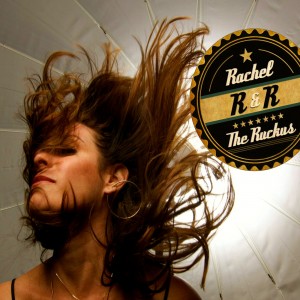 Whether it's raising two kids, voicing over Cinderella, or singing in a band, Rachel Alena of the band, Rachel & The Ruckus is surely something. An inspiring story of a life in L.A. and a musical journey to Colorado is just the beginning. Being introduced to music at a young age helped Rachel Alena through a life of songwriting, singing, and winning one of the best songs of the year in 2014's COMBO songwriting contest for "Leave Your Light On." Rachel's just getting warmed up! Rachel & The Ruckus, or as Rachel's band likes to say, "Rachel with a bunch of guys making noise in the background," is certainly a performance you won't want to miss at this weekend's Firefly Autism "Road to Blues & Brews."
Rachel took some time this week to sit down with Denver Writes' Ella Brink and talk about she and her band's amazing journey as musicians, parents, friends, and family.
Rachel & The Ruckus will perform from 3:20 until 4:05 on the outdoor stage at Park House (1515 Madison St, Denver, CO) on Saturday, August 1st.  Tickets are $10 in advance and available now – PURCHASE HERE.
Ella Brink: How did you come up with your band's name?
Rachel Alena: The guys and I were joking around one day and we were talking about what people would say about the band. Kyle Comerford, our drummer, he said, "well I think what they would say is that the band is Rachel with some guys making a bunch of noise in the background." Then we started joking about that and realized it's kind of true. So we decided on Rachel & The Ruckus. Kyle said it would be like R&R, you know, rest and relaxation, so we all agreed that was perfect. Rachel & The Ruckus. Rachel with the guys who make noise around her. It stuck.
EB: How long have you been performing as a band together?
RA: I would say maybe four years, four and a half years.
EB: What was the first song you performed together as a band?
RA: Let me think about that for a second. What happened is that I have been writing music since I was young. Since I was your age, twelve, maybe younger than that. I wound up with a giant notebook full of songs. I never knew when I was your age if somebody was going to hear them or not, but I wrote and wrote and wrote. I went into the recording studio about 4 ½ years ago with a piano and few musicians and recorded some songs. Then I brought them to Alec Sims, who, at the time, I was playing in another band with, and asked him if he would play with me. The first songs that we did as a band were songs that I wrote. I'm trying to think of what the very first song was. We performed a number of songs that were all originals I had written. I believe "Leave Your Light On," which is a song that actually won a COMBO (Colorado Music Business Organization) music award last year for one of the best songs, was one of the first songs we played.
EB: Do you still perform it together?
RA: Absolutely!
EB: What are you expecting from this weekend's Road To Blues & Brews competition and the other bands?
RA: I'm expecting to hear really good bands. Some of the bands that we're playing with are really well respected bands. They've been around a long time. They just have really good material, and they're good people. I'm expecting to have a good time, but I'm also expecting some fierce competition.
EB: So, what experience do you want to get out of the entire competition?
RA: I just love being able to share music with anybody that I can. For me, it's more about connecting with fans, connecting with people, being able to share what we do. In the end, that's all that matters to me. I'd love to be able to play the Telluride Blues & Brews Festival, but it's all about sharing the music.
EB: If you could perform anywhere in Colorado with the band, where would it be?
RA: I would have to say – and it may sound crazy – Chautauqua. Do you know Chautauqua?
EB: I don't.
RA: Chautauqua is in Boulder. The reason being is that when we first moved here years and years ago, I went to Chautauqua with my mother and I think we saw Taj Mahal maybe back then. I remember thinking to myself, "this is a cool venue." It's intimate, so people are close to you, but it's still big enough to have a nice size crowd. I'd love to play there.
EB: If you could describe your band's style and sound in one word, what would it be?
RA: Mile High Blues Rock. Wait, one word? For me, I guess the word would be fun. I have a great time, so fun would probably be best.
EB: Why did you decide to lean more toward Blues music rather than something like Pop?
RA: That's such a great question because I'm actually a singer/songwriter. I always wrote just me and the piano. I write a lot of music that the band is not playing at this time. I write a lot of music for other songwriters. I was a session singer in Los Angeles years ago, so my job was to sing for songwriters. They would write their songs that they wanted to pitch to famous people, and my job was to sit down and record the songs for them. I started doing that probably right around 18-years-old. I learned a lot about writing. At that time, I would write a lot of ballads and slower music for the piano. I also wrote a lot of things that I wasn't able to communicate with just the piano. A lot of the things that I would write needed to be communicated with a guitar. That's why I approached Alec because I needed a partner. I knew in order to be able to expand what I was doing, to be able to perform all the music I was writing, I needed a partner to be able to do that. I chose more Blues once I brought Alec in. Alec's big influences are The Rolling Stones and The Black Crowes. He brought his flavor to my music, which then became our music, which then became the music of the whole band. Then it became a mix of everybody's influences.
EB: Since you've been performing a lot, what do you think is the most memorable, funny, or impressive thing that has happened on stage?
RA: I played with the Los Angeles Philharmonic years ago, which was an amazing experience. You can imagine all of that instrumentation behind you when you're performing is just a phenomenal experience. Just two days ago, we performed at the Lone Tree Arts Center and it was just about a sold-out crowd. People were having a great time. There are so many great experiences, but I just had one two days ago!
EB: Of all the artists you've heard before, who do you aspire to be or who inspires you?
RA: Well, my favorite inspiration when I was young was Billy Joel as a songwriter and Elton John. That's where my origins are. I love Patti Griffin. Those are all singer/songwriters who write more of an acoustic style.
I think our band is probably more along the lines of The Black Crowes, Grace Potter even, kind of, The Rolling Stones. I think we're kind of a mix because we're not quite Blues-Rock, we have more Pop influence, but those are some bands that kind of have a similar style.
EB: I know you said earlier that you started this at a young age, so when did you figure out that you wanted to have a musical career?
RA: When I was a young girl, my father was a guitar player. Before I was born, he played for bands like The Shirelles, and Bobby Sox & Blue Jeans, so he played on "Do Run, Run, Run, Run" and "Be My Baby." I grew up listening to my dad on the radio when I'd go to the grocery store or wherever we were. He was always on the radio. I remember thinking to myself, always, that I wanted to do that someday. So, when I was younger, I went to school and graduated from Dick Grove School of Music in voice and piano, I started singing as a session singer and I also got the opportunity to be a voiceover talent, which is something that I still do. I'm on the radio all the time now doing commercials and that sort of thing. I actually just voiced Cinderella for Disney two weeks ago, which was pretty exciting. I feel like I've achieved that goal, in some way, with my voiceover work, but I'd really love to achieve it with music.
EB: In thinking about how long you've been performing, what are some drawbacks that you've had and how have you gotten over that? What are some positive things that have happened?
RA: Originally, one of the drawbacks for me was realizing that life as a musician is not easy. I started out in Los Angeles. There was a time when I was poor. I didn't have enough money to eat. I didn't have a place to live. I was practically living on the streets. I worked at a bakery and had just enough money to put in a change jar for gas. It got to the point where when I did get a place to live I got evicted. I had a warrant out for my arrest because I wasn't able to pay my tickets. It's a tough road trying to be a struggling artist, especially in a big city like Los Angeles. But, I have to say, the positive things about that is that I knew there was a higher power than myself. I got down on my knees and I prayed one day next to my bed. I said, "God, you have to help me." I didn't have a place to go. I had struggles at home. I didn't have what I needed. I wasn't sure I was going to make it. And that very afternoon I got a phone call from somebody who had heard me and invited me to go on tour. My first stop was a place called Kodiak, Alaska. It's a tiny little island on the Aleutian chain, and I met the love of my life, my husband, there. So, even though it's a drawback, it goes to prove that if you, in the face of adversity, stick with what you want to do and are positive and focus, you can do anything.
EB: When performing, there are people who are probably just watching and people who are screaming. What kind of reaction do you guys usually get?
RA: It really depends on where we are. Sometimes we get people who just sit and watch us, tapping their feet. Most of the time we get people who are dancing. We tend to play at places where people can get up and dance. I'm always dancing at the shows. I cannot sit still. I always have a ton of energy, so I love feeding off the fans in the audience and have them feed off me. We go back and forth with them dancing and me dancing.
EB: Do you think you leave a lasting impression on the people who come to see you?
RA: I hope so. That's my goal. My goal at the end of the day is really to share the gift of music and to lighten people's load. I feel like life can be tough and if I could leave people with anything it's giving them the ability to, even for the evening, to just let it all go.
EB: What are you most excited about in your musical career right now?
RA: We have a release coming out, which I'm really excited about, called "Bounce." That will be coming out in the next couple of weeks. I love it because it's kind of become the motto of the band. It's a song about overcoming adversity and negativity with positivity. It's very cool because we are talking about how a lot of times people will put you down and tell you that you're not going to be able to make it, and "Bounce" is a song we've kind of adopted. It was written twelve years ago by the drummer and guitar player not knowing that we'd ever bring it out and play it, but it really is about just having love and being good to each other. Working hard, you can do anything you want. I'm really excited about sharing it with people.
EB: Has there ever been a song that you've written but have resisted wanting to share it with people other than your band?
RA: I've never had anybody ask me that question before. That's a really good question. I write a lot of songs. There are a number of songs that I write that never leave my notebook and probably never will leave my notebook. People probably will never hear them only because I feel like my goal is always to write so many songs so that I have enough to pick the top ones as the ones that I bring to the band. By the time that they get to the band, they have gone through my criteria of what I think will succeed. I have songs that I play to myself when I sit and practice every day, but they may be something that's more personal that I may not think is a good quality for what the band might like and what people might want to hear.
EB: If you had one last thing to say as to how music has affected your life, changed you, or what it would be like had you not had music, what would it be?
RA: For me personally, if I didn't have music, I think my life would be half of what it is. I had a tough time growing up and the music saved me. I was always very blessed by my music teachers to pull me aside and mentor me in ways that I wouldn't have gotten otherwise. While it's gotten me into trouble at times, it's also helped me stay out of trouble because I have always believed that if you have a gift, you should share it. It's been a hard thing in that all I've ever wanted to do is use my voice. Getting into the business of doing voiceover work and being a singer is a hard business. So, that's been difficult. It's changed my life in that I haven't spent that much time in having a regular day-to-day job. But, it's given me so much love, fun and lessons to be able to share a gift.
EB: So, music has definitely had more of a positive effect than a negative one?
RA: A huge positive effect. See, I believe that we're all like a big puzzle. Everybody in the world is like a big puzzle and we all have a piece. Each of us has our piece and we might not always know what it is starting out. Whatever your piece is, that's yours to give. If you find what that piece is, you give it and you fit it in the puzzle, it makes you feel complete. Music is my piece.
RACHEL & THE RUCKUS
Firefly Autism "Road To Blues & Brews"
Saturday, August 1st 2015
Park House – 1515 Madison St, Denver, CO
Set Time: 3:20 – 4:05pm
Tickets: $10 in Advance
PURCHASE HERE