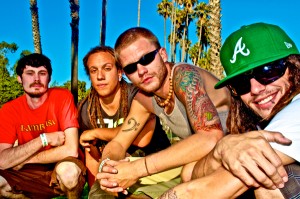 The Scene: After completely destroying the west coast; reggae-rock outfit The Movement from South Carolina brought their Easy Love summer tour to the Bluebird Theater in Denver, CO. Sharing the bill during the entire tour are the Huntington Beach Rockers; Pacific Dub. There wasn't much for a crowd outside the Bluebird when I arrived shortly after 9pm except a few folks trying to stay dry while pulling on their cigarettes. Once inside I was surprised by the size of the audience for a Wednesday night show mid-rain storm. It wasn't "packed" by any means, but I think it's safe to say at least 1/3rd of the rather large venue was filled. The first thing I noticed as I grabbed an I.P.A from the bar was the abundance of X's on hands and the cloud of smoke rising from in front of the stage. Aside from the fact that the bands have more of a reggae/hip hop feel to them, the energy of the room reminded me of my punk rock days.
Opener: Pacific Dub. Pacific Dub had just started their set by the time I found a seat on the upper balcony. Don't let the fresh faces of these young dubsters fool you, they are slowly gaining popularity among members and fans alike in the reggae/rock scene. Bryce Klemer shreds out screaming guitar riffs that fit perfectly with the driving hip-hop rhythms produced by David Delaney on drums. With a name like "Pacific Dub" you certainly can't show up short on the bass and these guys definitely brought the thunder and lived up to their name. I couldn't imagine the joy these fellas got by seeing so many people their same age grooving and singing along to their songs. The crowd absolutely loved their entire set judging by the reaction after they ended with an almost heavy metal sounding jam. I was totally impressed and believed lead singer Colton place every bit when he said that this would be a "show they never forget." Much like most bands that get the chance to play for the Front Range, I'm sure these guys loved their stay and will be coming back soon and often.
The Movement: Now, I had never heard of The Movement before Wednesday but spent the whole day studying up on the album "Set Sail" which they have streaming for free on their website. They took the stage around a quarter after 10 to a very warm welcome. Starting things off with the heavy dub sounding "One More Night," they easily grabbed everyone's attention. I decided to abort my position on the balcony and work down towards the floor to showcase my funky dance moves. Unfortunately at first, most people were hardly moving. Eyes were focused on the passionate members of the band and ears tuned in, just little to no movement at that point.
After a couple more numbers people started loosening up and getting down. Each member of the band was not only talented but full of love for what they do. Jordan Miller's voice and soulful lyrics matched his ability to spit some frosty flows and overshadowed the fact that he wasn't even strumming the guitar at times. Clearly he was as captivated by the music as everyone else down by the stage.
Their name, The Movement, is more than a perfect fit for everything these guys represent and they were more than just your generic run of the mill reggae-rock band. It's all too easy to get swept under the rug in this fast growing scene so bands must find a way to stick out and grab the ears of the short attention spanned youth. These guys are on the right path through deep bass that makes you want to drop to your knees, and heavy jams that make get you off of your feet.  They absolutely represent a movement of truth and love and after hanging with them for a while afterwards it was obvious that they feel the music in their souls.
The show came to an end around 11:30, a nice time for a weekday show to end. The people at the Bluebird quickly shuffled everyone outside and began to clean up.  It was a great night of bass heavy roots music; a sound I would have never expected to originate out of South Carolina. They do solid justice to everything this scene has to offer. I am definitely going to be adding them to my list of bands to watch out for and without a doubt will be catching their set next time they come around.
Energy: A
Sound: B
Musicianship: B-
Stage Presence: A
Set/Light Show: C-
Overall: B

I rode my skateboard from school in 7th grade to my buddy Vince's house where he put on the song "Perfect Government" by NOFX and I was hooked. The next day I bought the album Duh by Lagwagon. The next year I saw Against Me! at the Starlight Theater in Fort Collins, my mom dropped me off. I've since devoted every waking hour to anything done with passion. My speakerbox bumps everything from Lil' Wayne to Pablo Casals. I was never very good at making music, but I am damn good at listening to it. I've been filling up yellow notepads with random thoughts and misspelled words for as long as I can remember. I enjoy whiskey of all sorts, Newport cigarettes and the company of my family. I've got an addiction to run-on sentences that I'll probably never cure. A solid handshake with a stranger who has become a friend over a few beers means the world to me. You'll often find me wide eyed and wandering with an ear to ear grin. I live for funky break beats and spreading the love.