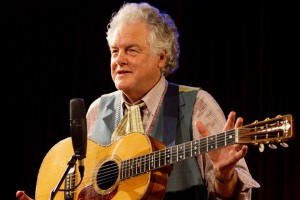 Photo by Ronald Rietman
In October of 1964 a fresh faced 22 year old Peter Rowan joined Bill Monroe's traveling band of bluegrass marauders, The Bluegrass Boys.  It was a worthy invitation that would spark Rowan's incredible career that has now spanned more than five decades.
The Bluegrass Boys wasn't just a group of 60's era musicians jamming together, it was a brotherhood that included such names as Earl Scruggs, Del McCoury and Bill Keith.  Because Rowan was the first "Bluegrass Boy" hired who wasn't from the south sometimes it wasn't all about music.  In fact Rowan describes his job in the earlier days as more geared towards "driving the tour bus" than playing the guitar.  One way or another, Bill Monroe fell in love with Rowan's simplistic style of picking and 'pure' bluegrass voice and it wasn't long before he was recording and gracing stages at the Newport Folk Festival and the legendary Grand Ole Opry.
When Listen Up Denver! caught up with Rowan between classes at Rocky Grass Academy in Lyons where he was teaching singing, he discussed the influence Bill Monroe has had on his career and the words seemed to flow like a river.  "Bill would speak in riddles which often became lyrics to songs later on.  He had a presence that didn't require him to speak, everyone just knew," said Rowan.
Between 1966 and 1967, Rowan sat down for five recording sessions as a Bluegrass Boy and these sessions set the table for his solo career and future endeavors with David Grisman, Jerry Garcia, and Tony Rice.  Soon after leaving the Bluegrass Boys in the spring of 1967, Rowan cemented his place in the Bluegrass cannon when he penned one of the genre's most famous songs, "Panama Red."
The New Riders of the Purple Sage released the song as the first single from their 1973 album, The Adventures of Panama Red and Rowan was clear that he doesn't "regret that New Riders of The Purple Sage turned that song into a hit" because his experience performing it live with Jerry Garcia as a member of Old and In The Way was "monumental."  It was during his tenure with this super group, led by Garcia and his close friend David Grisman, that Rowan's fame would explode, launching him into the upper echelon of Bluegrass performers.
Today Peter Rowan maintains his status as a walking, talking, bluegrass history lesson.  When we caught up with him in Lyons, he stressed the importance of the "bluegrass voice" and "his love for teaching the ways of traditional and non-traditional bluegrass music."  Rowan was set to play the 39th annual Rocky Grass Festival with the Peter Rowan Bluegrass Band and many others including the legendary Sam Bush.  For those who missed his performance at Rocky Grass, he stressed that he will "be in Colorado many times in the future visiting the bluegrass community, its just too beautiful to miss." He went to talk about how bluegrass shows in Colorado "represent all we are looking to achieve in the world.  It's a warm community that comes together and unites as one."  It's through this lens that Peter Rowan connects with his fan base; new and old. Clearly, after more than five decades in the music business "its about more than bluegrass."
The man deserves incredible respect for his longevity and willingness to collaborate with incredible musicians who always seem to enhance his voice.  While he is a traditionalist at heart his influences reach far beyond bluegrass.  For his recent record Legacy, Peter spent weeks listening to Mozart's choral, paying close attention to the preciseness of the keytones.  The record is a beautiful example of a Bluegrass musician trusting his band and having faith in his own voice.
What really sets Peter apart is his willingness to "harmonize" and to "feel wonderful about singing on stage."  He often yodels and varies the pitch in his voice for a more natural bluegrass feel. Every show is a search for the "perfect bluegrass sound," and creating that sound in the live arena is all part of the fun.
He says that "every collaboration is different but in the end they are making the same 'honest bluegrass' that Bill Monroe conjured up in the late 1930's."  It's this dedication that has led him across the country and back again with The Traveling McCourys, The Peter Rowan Bluegrass Band, and the Peter Rowan and Tony Rice Quartet.   Rowan is looking forward to the future with the extremely talented Tony Rice.  "We are working on a traditional set of Bill Monroe's music and hope to tour with it soon," he said.
While Rowan will be performing with the Traveling McCourys, at YarmonyGrass he has shared the stage with The String Cheese Incident several times over the years and called Billy Nershi a "legendary performer."  He also said that he is looking forward to bringing the String Cheese boys out for guest appearances, although he declined to say what surprises he has in store.  Though he's never played at the Rancho Del Rio site he was excited to "spend time in the mountains with his bluegrass family." For Peter and his lifelong fans they shouldn't expect anything less than a spectacular festival high in the Colorado Rockies.

I've worked various positions in the music industry with Madison House, Rock The Earth and Bohemian Nights. My dream is to travel the world and seek out all the good tunes, beer and food that make life so special. I have a healthy obsession with live music and I'm thrilled to share the epic moments with you.