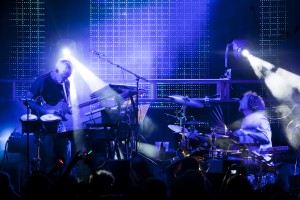 The 2011 SONIC BLOOM festival marked EOTO's fifth anniversary!!  The project that started as a late night experiment has grown into a full-fledged headlining machine complete with all original HD eye candy.
To thank their fans for all their support over the years, and to celebrate what is also their 400th live release, EOTO has decided to give you a copy of the anniversary show, for FREE. No strings attached. If fact, they would be delighted if you passed this show on to all of your friends so they could cue up a world wide dance party to celebrate!
EOTO Tour Dates
8/5/2011 Rhinofest Music Festival Plainfield, VT
8/9/2011 Blu Nightclub Stateline, NV (Tahoe Area)
8/13/2011 The Crossroads Kansas City, MO
8/18/2011 Praire Grass Music Festival Houston, MN
8/19/2011 Green Mountain Eco Festival Missouri Ozarks, MO
8/20/2011 Sunseekers Ball Music & Arts Fest New Brunswick, Canada
8/21/2011 Mountain Stomp-Prindell Creek Farms Tidewater, OR
8/22/2011 Boulder Theater – Boulder, CO
8/27/ – 8/28/2011 State Bridge Riverside Amphitheater Bond, CO
8/31/2011 Burning Man Festival Black Rock, NV
9/9/2011 Werk Out Festival Bellefontaine, OH
9/16/2011 Mishawaka Bellvue, CO
9/17/2011 Wonk Fest-The Quarry Everson, WA
9/22/2011 Blackwater Music Festival Live Oak, FL
9/23/2011 Earthdance Music Festival Vallejo, CA
9/24/2011 Kountz Arena Bozeman, MT
9/27/2011 Bourbon Theatre Lincoln, NE
9/28/2011 Majestic Live Madison, WI
9/29/2011 Eagles Ballroom Milwaukee, WI
9/30/2011 Roy Wilkins Auditorium St. Paul, MN
10/1/2011 U.S. Cellular Coliseum Bloomington, IL
10/2/2011 Bluebird Nightclub Bloomington, IN
10/3/2011 Bell's BreweryKalamazoo, MI
10/4/2011 Blind Pig Ann Arbor. MI
10/6/2011 Royale BostonBoston, MA
10/7/2011 Toad's Place New Haven, CT
10/8/2011 Port City Music Hall Portland, ME
10/9/2011 Pearl Street Northampton, MA
10/13/2011 Jillian's of Albany Albany, NY
10/14/2011 Brooklyn BowlBrooklyn, NY
1/9/2012 JamCruise Ft. Lauderdale, FL
Music has always been a part of my life. It probably all started listening to old Grateful Dead, Peter Paul & Mary, and Simon & Garfunkel records that my parents had, but it wasn't long before they were taking me to concerts like Starship, Crosby, Stills & Nash, and Huey Lewis & The News. I got the bug to write about music after reviewing an Eric Clapton concert for a creative writing project in high school but didn't really take it up seriously until 2002. Since then I have published countless articles in The Marquee Magazine and done some work for Jambase.com, SPIN Magazine, and various other outlets. I started Listen Up Denver! as a way to share the music information that is constantly spilling out of my head with people who care. Please enjoy!