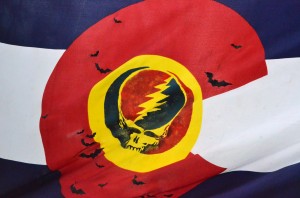 All Photos By Johne Edge
Collegiate Peaks Music Festival, now in its 6th year, may just be the best little known music festival of 2011.  This year a diverse line up of 14 bands took to the stage situated next to the Arkansas River and in the shadow of the Collegiate Peaks from July 28th – July 30th.  Staying with tradition, CPMF remains a celebration of Colorado by featuring some of the best bands from around the state. Additionally, the festival recruits an eclectic selection of touring bands from all over the US.   World music, jamgrass, Americana, bluegrass, folk, funk, reggae, and electronica filled the air this past weekend in the mountain town of Buena Vista.
Day 1 was Chaffee County Locals Appreciation Night, and free admission was just the ticket to get the party started.  The kegs of Ska Beer were tapped at 5:00 and the crowd began to grow and fill the new festival grounds in The South Main neighborhood.  Missed The Boat, a seven-time Grammy nominated string sensation formed in Steamboat Springs, opened up the festival with its blend of Americana and high country bluegrass.  The music got the crowd worked up into a foot stomping frenzy that lasted until almost 8:00 when the Drew Emmitt Band took the stage.  This year's CPMF set showed that after 25 years on stage Emmitt remains one of the most energetic and innovative mandolin players on the jamgrass scene.  The Leftover Salmon member surrounded himself with a great line up of musicians that easily carried the party late into the night, commenting at one point that Mt. Princeton was jealous and wanted its own music fest. As the evening came to a close, locals and festival goers spilled into the Blue Parrot on Main Street for one last drink and to talk about the night's magic.
Day 2 started with a pair of Banquet beers at The Rope, and was followed by a leisurely bike ride to the venue.  Buena Vista is a very outdoorsy town full of mountain bikers, kayakers, and rafters, so pedal powered transport seemed only natural (especially after a liquid lunch).  Euforquestra opened up day two with an eclectic blend of high energy reggae, dub, afrobeat, ska, and funk.  Originally from Iowa City, Colorado has gladly adopted this euphoric orchestra as one of its own.   Next, drummer Dave Watts led The Motet and the crowd on a journey of ecstatic dance.   Driving beats, layers of funk, and a heavy dose of horns had everyone on South Main's lush lawn moving.  This Boulder based band has been going strong for over ten years and the fact that this is only the second time I have tuned into a live set makes me feel robbed.  As the sun was setting, New York's Giant Panda Guerilla Dub Squad kept the party going with its brand of psychedelic tinged reggae.  GPGDS has toured relentlessly over the past three years, with over 500 shows under their belt, yet it seems clear that they have harnessed some type of top-secret renewable energy source.
The final act of the evening was Austin, Texas DJ fronted powerhouse, Lance Herbstrong.  DJs Kamal Soliman and Bill Sarver powdered the keg with mashups that included "Cocaine," "Pass The Duchie," "Electric Avenue," "Sabotage" and "Hot For Teacher." Porno For Pyros guitarist Peter DiStefano and drummer Ricky Gonzalez lit the fuse.  A chronic drizzle did nothing to dampen spirits.  The fun bomb left people reeling into the night, dripping with both rain and sweat, and onto a secret after party featuring KLOVEDUB, aka Keller Williams.  The tiny Asian Palette restaurant hosted DJ KLOVEDUB and a large throng of curious folks amassed to see just what the unpredictably quirky, albeit incredibly talented, one man band could conjure up on his laptop.  As it turns out, the answer to that question was a musical buffet of tasty beats.  At one point I found myself shaking my head in disbelief as the freekers right by the speakers helped themselves to servings of both dubstep and a remix of The Beverly Hillbillies theme song.
Day 3 began with 10 year old singer and guitarist Jaden Carlson paving the way. Backed by The Motet's Dave Watts on drums and Garrett Sayers on bass, she wowed the audience with her talent and confident stage presence.  Jaden left us smiling and primed for what would become an almost supernatural experience, Nederland's very own Elephant Revival.  Described as "transcendental folk," this neo-acoustic quintet certainly cast a spell over the large, swooning crowd that begged for more as they wrapped up their lunchtime set.
The afternoon brought some blues and soul, courtesy of the Eames Brothers Band.  And while many took the time to check out the kayak demonstrations a mere 100 yards away, others seized the moment to cut a rug (or hoop) on the sun drenched lawn with reckless abandon.  By mid-afternoon DC based collectives, Empresarios and The Funk Ark roused the masses with Latin tempos, afrobeats, and big band funk.  A particular highlight of the day was the moment when three-year-old, local twin brothers, Finn and Sully, were lifted onstage by security in order to rock out.  I had watched these little guys and their toy guitars since Thursday, and they definitely deserved some recognition as the future of rock and roll.
As the clouds rolled in, so did These United States, hailing from DC, NY and Kentucky.  They are sometimes described as Indie-Rock and since this is a label that doesn't usually resonate with me, I was pleasantly surprised when they delivered ragged-edged folk, gospel and grime.  SCI keyboardist Kyle Hollingsworth and his band continued to hold the storm at bay much to the delight of everyone.  The music blew our minds and appeared to blow the wind in four directions as the very ominous thunderheads dissipated in time for the festivals headliner, Keller Williams.
Keller took to the stage, flanked by instruments and proceeded to lay out layer after layer of beats using a Gibson Echoplex delay system that allows him to simulate a full band.  He himself describes the process as "self-indulgent," since it allows him the autonomy to produce exactly what he likes.  But self-indulgent should not be confused with selfish since he joyfully shares his original and choice cover compositions with us, the lucky listeners.  On this particular night he took us on a walk down "Shakedown Street" with a "Doobie in My Pocket" and reminded everyone to "Celebrate Your Youth."  I have no doubt that many took that advice to heart well after the lights on South Main's stage dimmed for the final time, as Buena Vista's taverns filled up with revelers not ready to surrender their tired dancing bones just yet.
The going rate for a headline quality concert in Colorado is about $50. Multi-day music festivals are upwards of $150. The CPMF was a pleasant surprise on the concert going pocketbook this year at only $25 in advance, or $35 DOS.  It was not Bonnaroo, but it also did not come with Bonnaroo's 80,000 festival goers.  The experience at CPMF was more intimate as artists interacted on and off stage with the crowd, and the people of Buena Vista were hospitable and fun.   In short, people of the Front Range, if you missed the 2011 CPMF you missed Colorado's best little known music festival.  Keep your eyes and ears open for when they announce next years CPMF, and drive the 2 hours up 285.  If it is anything like this year's festival it will be worth the trip. See you there.