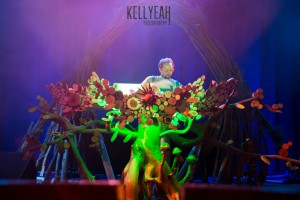 Photos by Kelly Hueseman
The Scene: With Shakey Graves playing next door at The Ogden Theatre, I had definite show envy walking into the Fillmore Auditorium. I'd seen both Shakey Graves and The Polish Ambassador before, at Cervantes' Masterpiece Ballroom and Telluride Blues & Brews, respectively. But, considering there are nights when there don't seem to be any good shows happening in town, it's always tough when there are two awesome ones happening on the same street. The Fillmore was full by the time I arrived, and everyone was friendly as I scooted my way to my favorite spot in the center of the floor, near the soundboard. It didn't take long to forget about Shakey Graves and get pretty stoked for Polish to come out, and I was hoping for an appearance from Ayla Nereo as well…
The Polish Ambassador: The thing about The Polish Ambassador is that whether or not all of his fans are familiar with the beats he drops, one thing's for sure – they're all familiar with the positive vibes filling the air at every one of his shows. This was truer than ever on Friday night, as the night centered on a cause dear to Polish, Permaculture. The Permaculture Action Network connects the community by empowering people with the tools needed to live earth-based practices and bring about a regenerative way of living.
While speakers took the stage in between the various opening music acts, the speaker worth waiting for was Polish himself, who got comfortably seated on-stage after finishing his set. Thanking Denver for its support and insisting he does not feel as strongly about any other city, there was a true authenticity in Polish's speech.
The "World's Funkiest Diplomat," as he's commonly called, let no one down on Friday night, I'd dare to say. Lucky for me (and many others who I overheard uttering hopes for the same thing as me), Ayla Nereo did make an appearance, singing a beautiful, hypnotic rendition of "Twirl Me," one of the more popular songs from David Sugalski (The Polish Ambassador) and Nereo's side project, Wildlight.
Among the various bands and artists we have the pleasure of seeing live in Denver, it's always refreshing to see The Polish Ambassador, an artist who seems genuinely grateful for his stage and ability to influence positive change among the millennial generation. The show ended with just enough time to stumble over to Sancho's for a nightcap in appreciation for a weekend started off on a good foot.
Energy: A
Musicianship: B
Sound: B+
Stage Presence: B
Set/Light Show: A
Overall: B+
After growing up in Missouri listening to vintage records of The Allman Brothers, Carly Simon, and Stevie Ray Vaughan, I was hooked to the live music scene and the contagious sounds of guitar licks and soulful lyrics. After moving to Colorado, I've been contributing to Listen Up Denver! as a freelance photographer and writer. I've also started a side project, KellYeah Photography, which gives me the opportunity to pair my passion for live music with my creativity and love of being around people. Aside from photography and writing, I'm an avid hiker of Colorado 14ers and a beer enthusiast.