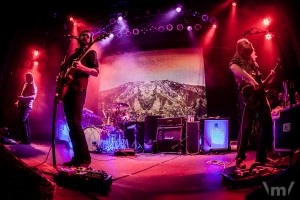 Photos by Mitch Kline
The Scene: For three hours, The Gothic was beamed back to the heavy 70's, prompting visions of what it might have been like to see oh, I don't know Mountain open for Deep Purple in 1972. On the road in support of new records, The Sword and All Them Witches rolled into Englewood Monday and laid down one of the best nights of retro Rock and Roll I've seen in, well, ever.
All Them Witches: I stumbled upon Nashville based All Them Witches a few months ago, in the thick of a "best psychedelic blues bands" search. I was instantly taken by their dark and smoldering brand of southern Rock. Their 2013 long player Lightning at the Door was in heavy rotation for weeks. With an excellent new studio release, Dying Surfer Meets His Maker (out last week on New West Records), I was even more anxious to see this band live. Fortunately, their nearly hour long song set didn't disappoint, with slowly building jams, awash in swirling guitar fuzz, topped with Allan Vancleave's Fender Rhodes. The only thing I was left wishing for was more music as it felt like these guys were just hitting their stride. So, here's to a Bluebird Theatre headlining slot in the near future. Just sayin'.
The Sword: I've been loosely following The Sword since Age of Winters, but I had to see them live. I had an idea of what to expect, but didn't realize just how good this band on stage. After a full intro of "Ride Like the Wind," they set the tone right from the start, easing long time fans in with the hard-hitting "Tres Brujes" and Apocryphon favorite "Arcane Montane" before diving into "High Country" and "The Dreamthieves" from their latest studio effort, High Country (Razor & Tie).
By now, these guys have a fairly deep well of songs to pick from, and they definitely know how to write a setlist. The best bits and pieces of new and old play very well together on stage. The pummeling, sludgy riffs of "Seven Sisters" and "Maiden, Mother, and Crone" beside the boogie of "Lawless Lands." There was no mid-set slump as High Country standout "Buzzards" stands up to some of the heaviest songs this band has created. Just when I thought The Sword couldn't possibly bring more, they closed out this show with a one-two-three knockout punch of "The Horned Goddess," "Freya," and "The Bees of Spring."
While The Sword remains firmly rooted in the depths of sludgy Metal, their constantly shifting sound, seemingly based on frequently changing current influences continues to impress. While High Country didn't immediately pull me in (or shred my eardrums to pieces like their past efforts), this show, this live version of The Sword, wow! Anyone even remotely interested in vintage Rock and Roll should see this band.
Energy: A
Musicianship: A+
Sound: A
Stage Presence: A
Set/Light Show: B
Overall: A+