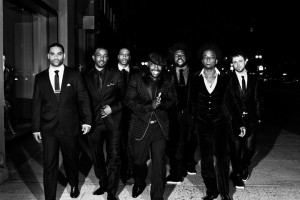 Why You Should Go: Formed in 1987, in Philadelphia, PA, the legendary Roots Crew, consists of Black Thought (MC), Ahmir "?uestlove" Thompson (drums), Kamal Gray (electronic keyboards), F. Knuckles (percussion), Captain Kirk Douglas (electronic guitar), Damon Bryson (sousaphone) and James Poyser (electronic keyboard). Having previously released twelve projects, The Roots have become one of the best known and most respected hip-hop acts in the business, winning four Grammys, including "Best R&B Album" for Wake Up!, "Best Traditional R&B Vocal Performance" for "Hang in There" (with John Legend) and "Best Group or Duo R&B Vocal Performance" for "Shine."
The ensemble was most recently nominated for "Best Rap Album" for the 2011 release of undun. This brings the band's GRAMMY nomination count to twelve. Additionally, The Roots have also become the faces of Philly's "Fourth of July Jam," an annual concert held during the Fourth of July with the biggest names in music, and "The Roots Picnic," a yearly star-studded mix of musicians, that has become a celebrated institution during awards season. Recently The Roots were named one of the greatest live bands around by Rolling Stone, became the official house band on The Tonight Show Starring Jimmy Fallon where they currently perform every Monday- Friday. The Roots celebrated the release of their 11th studio album …and then you shoot your cousin in May 2014.
Venue:  The Ogden Theatre, 935 E. Colfax Ave Denver, CO 80218 – 303-832-1874
Doors: 6:00 p.m. Showtime at 7:00 p.m.
*Price: $50 Adv|$70 DoS Purchase Here
*All prices are gathered from other sources and we are not responsible for mistakes or inconsistencies. They are intended only as guidelines. Please, always call the venue if you desire the most accurate information possible.

Nate Todd was born on the central plains of Nebraska, but grew up on the high plains of the Texas panhandle. With not much to do in either place, music was his constant companion. His parents dubbed the first two albums he ever owned onto a tape for him. Side A was Bert and Ernie's Sing Along. Side B was Sgt. Peppers. His lifelong love affair with music started early as he practically grew up in a Rock & Roll band, with his father and uncle often taking him out on the road or into the studio with them. Nate began performing live at sixteen and hasn't looked back, having played in numerous bands from L.A. to Austin. At the age of twenty he was bitten by the writing bug, and upon moving to Denver decided to pursue a degree from Metropolitan State University where he recently graduated with a B.A. in English and a minor in Cinema Studies.