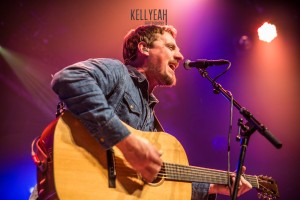 Photo by Kelly Hueseman
The Scene: The second night of Sturgill Simpson's visit to Denver last week kicked off hard, fast, and on time – like a bull storming out of its pen. As expected, The Ogden Theatre most likely oversold tickets, and the room that had been sold-out for months was rocking and shaking.  That said, a bummer of a light show only made the older, cranky crowd even more noticeable, and unfortunately the sold-out room was loud with talking throughout almost every song.
Sturgill Simpson: Sturgill Simpson, the Kentucky-born Country artist who has spent recent years soaking up the soulful sounds of Nashville was hard to understand at times during his second night at the Ogden, but it didn't matter. Simpson's voice flowed with thick, American soul as his guitar brought forth a powerful burst of energy and passion for his craft. His brazen attitude connects with us out West and I imagine it would with those down South as well.
The outlaw music movement that inspired a generation is waking up again thanks to guys like Ryan Bingham, Jason Isbell, and Simpson; and his raw, unbridled sound was perfect for a Friday night. Electric & slide guitarist Laur Joamets was a crowd favorite and his controlled fingering of the strings and focused stare alongside Simpson's unique voice was entrancing. It will be fun watching the younger music lovers come around to the sounds of Sturgill Simpson, who has been compared to Waylon Jennings.
After salting the air with fan favorites including "You Can Have the Crown," I couldn't help but notice how many people were singing along to Simpson's lyrics.  That is not something to underestimate in an artist who only came on the scene two years ago in 2013.  As the night went on, the songs got longer and extended into Southern Rock jams. Meanwhile, the alcohol burned a little brighter and the more people drank, the wilder the aura got. Looking down from the balcony during "Turtles All the Way Down," I saw a fight break out and was told by the guy next to me this is common at a Sturgill Simpson show. It felt like suddenly The Ogden became an old cowboy western saloon.
Like a church in the South, the loud, proud, and unapologetic show started on time and didn't end late. Simpson is such a refreshing artist in a sea of sameness. Let's face it, Denver has roots in Country and Western music and the educated fans in this town know that and welcomed Simpson with two sold-out, show-stopping nights to remember.
Energy: B+
Musicianship: A
Sound: A
Stage Presence: B+
Set/Light Show: C
Overall: B+
After growing up in Missouri listening to vintage records of The Allman Brothers, Carly Simon, and Stevie Ray Vaughan, I was hooked to the live music scene and the contagious sounds of guitar licks and soulful lyrics. After moving to Colorado, I've been contributing to Listen Up Denver! as a freelance photographer and writer. I've also started a side project, KellYeah Photography, which gives me the opportunity to pair my passion for live music with my creativity and love of being around people. Aside from photography and writing, I'm an avid hiker of Colorado 14ers and a beer enthusiast.