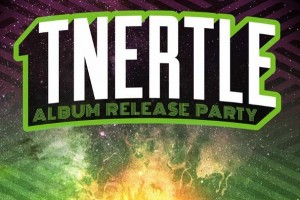 The Scene: Nothing feels better than seeing your friends and family cheering you on during an important milestone of your life or career.  Friday night underlined this milestone for Tnertle, a hearty and talented group of musicians.  It was a treat to witness and with a full house by 10pm, I'm certain everyone else thought so too.  A little snow couldn't stop the continuous flow of Denver music scene troops eyeing for a spot to catch one of the hottest bands emerging from the white hot Denver music scene.  The atmosphere in The Other Side was festive, pulsing with excitement, ready to celebrate a breakthrough for a bands major label release.  Local talent Skydyed, Alixir and Sassfactory were a slice of the party, warming up the crowd with big bass beats before Tnertle set up to take the stage as the clock pushed midnight.
TNertle: This isn't your typical electronic band, if you can even call them electronic.  They prefer "Samptronic."  If your down with vintage samples and original tracks turned inside out with a Bass, Electro, Funk, Jazz, Hip-Hop melting pot that seeps into your ears, then you will find something you like about Tnertle.
Trent Campbell (Midi controls/bass guitar) and Kyle Ayervais (drums), the bands creators and partners since 7th grade jazz band, have created a mash-up of tremendous talent.  Adding Leah Concialdi (Saxophone), Alice Hansen (Trumpet), Ty Hughs (Guitar), Taylor Steele (Guitar) Ray Salazar (MC) and Lily Fangz (MC) has constructed a collaborative brood that is gaining steam as a stimulating spectacular of electro-fusion.
An internship with Michal Menart a few years back was the beginning of Trent's friendship and eventual collaboration with the producer.  When it came time for Trent and company to record and album, the band and the Super Best Records owner himself produced and fashioned their newest release, Mata Mata.  The night's occasion was to have the album played in its entirety along with first time live versions, and Tnertle sampled anthems.  The show started with the first songs from their album; "Numinous," "Royal Sea," and "Mata Mata."  While Lily Fangz was a no show, the band played the instrumental version of her song "Dance All Night."  "Andreas" kicked off the second leg of the album show and tell with some amped up grooves.  The song really gives a chance for each member of the band to be highlighted for their craft.
Leah and Alice have major roles during the song, blowing their horns with passion.  The power of the brass supplements the layers in this already diverse group.   Trent displays the ability to use the midi control as a standalone instrument.  Raymond Salazar digs deep with thoughtful Rap threads that weave effortlessly with the bands soulful horns and guitar riffs – especially in "Beautiful Mind," giving it an old school, West Coast style Hip-Hop essence.
Let's face it crowds are suckers for guest appearances and The Other Side roared when Menart took the stage to mix the song "Menertle" live with the band.    Rounding out the album set was "Hector Schwing" which nods to Menart's fondness of Middle Eastern music, "Rhinestone" which featured Ray Salazar flowing over the decades old sampled chorus of "Rhinestone Cowboy," and finally "The Dutch Touch," the album's funked up, space Jazz conclusion.  This may have been the end of the musical showcase of Mata Mata, but it was far from the end of the show.
At this point the band threw in some older tunes including "Twelve days to the City," which feature a deep Soul horn rhythm that is so pleasing to groove to.  "The Date" is a song that you turn up loud and get dancing to.  The band effortlessly slides into so many different directions that you never really know what they will come up with next.  Tnertle is known for their remixed spins of more popular songs and they didn't fail to give us the goods on Friday night.  Their remixed hit "Spottieottiedopalicious" made famous by Outkast is always a pleaser.  Keeping with the dance-all-night theme, a few Calvin Harris songs: "Dance Wiv Me" and "Neon Rocks" got the Tnertle treatment.  Salazar graced the stage once again for "Wet Wild" which transcended into their banger "Around the Block" which was first made famous by mentor Pretty Lights but was remixed TNertle's style.  "Snake Charmer" by Bag Raiders was their final track and it brought the whole band together, reaching the peak of musical poise.
Tnertle has progressed in the last year, becoming tighter, unified and hot, hot, hot.  They bring the hype and always deliver.  Trent and his Denver based band have created a collaborative brood that is gaining steam and carving out their own musical corner with the incomparable party they bring to the stage. If you want to find your new favorite band, then you need to jump on the Tnertle music movement and journey to the summit of their Samptronic empire.
Energy: A+
Musicianship: A-
Sound: B
Stage Presence: A
Set/Lights: A
Overall: A-

From Evergreen, CO currently lives in the highlands of Denver, CO. Found my passion for live music as a young child with my parents taking me to see concerts and live music early in life. First concert? Jimmy Buffett at Fiddlers Green! Received a Bachelors of Arts degree in Business Administration and minor is communications from Fort Lewis College in Durango, CO. Have worked in music publicity for over five years around Denver. Favorite bands and artists include; Talking Heads, Steely Dan, Widespread Panic, Jackie Green, George Clinton, Joe Bonamassa. Rock and Roll, funk, hip hop and jam are the types of music I will favor. Favorite local band; The Motet. Favorite things to do: concerts and live music, SUP on local lakes, yoga, camping and weekend adventures, dive bars with a good jukebox and dining al fresco on my deck with friends.