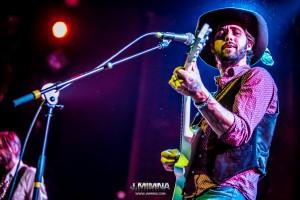 Photo by Jim Mimna
The Scene: Ryan Bingham fans lined up outside the Ogden Theatre on a frigid Friday night to shake off their Thanksgiving gluttony.  The November 27th show was a second show that was added in addition to Bingham's pre-Turkey Day gig on Wednesday as part of his "Fear and Saturday Night" tour.  Word on the sidewalk was that the Wednesday set was smoking from start to finish (which was three hours later with a four song encore).  Expectations were high among many and the whiskey drinks began flowing early to get everyone warmed up.  Unfortunately, security also seemed to be warmed up, overzealous, and slightly invasive of many patrons' ability to enjoy the show, despite no rowdiness from attendees.  The crowd definitely had a southern feel, filled with cowboy hats and boots.
Jamestown Revival: The Ogden filled in slowly, but it quickly became clear that opener Jamestown Revival had fans of their own, ready to dance off the chill in the air.  Led by childhood friends Zach Chance and Jonathan Clay, the band had a honky-tonk feel mixed with a bit of Rock and some Country and showcased strong harmonies that are sure to ripen with age.  Guitarist Brad Lindsay stood out with a mean slide and lead guitar that had the crowd screaming for more.  Featuring "Cast Iron Soul" as a clear crowd favorite, the set was high energy, fun, and did a great job of warming up the audience.
Ryan Bingham: Ryan Bingham took the stage to a well-primed crowd ready to get some of what they came for.  With a feather in his hat, Bingham bantered about feeling surrounded by family in Denver and asked us all to stomp our feet with him.  To the delight of the audience, 70-something Alt-Country legend Terry Allen joined the band to reprise his role on "Ghost of Travelin' Jones" from Bingham's Mescalito record.  Bingham also seemed to thoroughly enjoy his sit-in, flashing his boyish, authentic grin.  Another 70-something, fiddle player Richard Bowden, was as energetic as anyone in the band and at times he played with such incredible vigor that it appeared his fiddle was smoking – pretty impressive especially considering that Bowden is more than twice Bingham's age.  Other set highlights included a sweet version of "Bluebird," a sit-in by Jamestown Revival, and a satisfying "Bread and Water" show closer.  It was a foot-stomping, earplug-needing, wholesome get-down.
Ryan Bingham's popularity may have seemed to have happened quickly, but this performance showed he's got the natural swag and confidence to accompany his overtly obvious singer-songwriter talents.  This was apparent not only from his performance onstage but could also be seen in the attitude of the audience.  The feel was celebratory, as though Bingham is already considered an old favorite to so many.  Everyone there was stoked to be getting the experience because Ryan Bingham clearly is the real deal and delivers an incredibly satisfying show.
Energy: A
Musicianship: A
Sound: A-
Stage Presence: A
Set/Light Show: B
Overall: A-