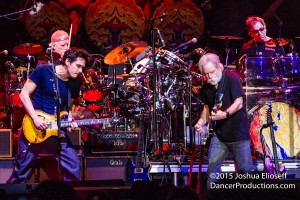 Photos by Josh Elioseff
The Scene: When we rolled up to the 1stBank Center about 6:45 the lines to get in the door were hundreds of yards long – literally.  Security pat-downs were as tight as I've seen them at the Broomfield venue and as a result there were hippies and hipsters, old and young, queued-up together to get inside one of the smallest venues on this year's Dead & Company tour. 
While the crowd was amped-up and ready to get down to some old favorites, let's face it, last week's shows were not without controversy.  Questions like "Should 'The Dead' be touring without Phil?", "Why on earth did Bobby, Phil and Mickey choose John Mayer to fill Jerry's lauded shoes?" and "I thought they said the Chicago shows were the last ones?" were bubbling through Head circles since this tour was announced in August.  I've got to say that while those questions are all valid, the first night of this two night run in Broomfield proved to me that this band is breathing new life into the storied tradition of the Grateful Dead.
Dead & Company: The band came out of the gates with strong as John Mayer took the lead on "Cold Rain & Snow" and showed off why his guitar playing landed him in the proverbial "shoes" of on the best to play the instrument.  Sure he made a name for himself in the public consciousness as a cheesy Pop singer, but this guy is a top notch player, there is no doubt about it.  And, as the show progressed, he forced many naysayers to eat their words.
After Bobby took the lead on "New Speedway Boogie" and a personal favorite of mine "Me and My Uncle," Mayer took the reins again on an even slower than usual "Candyman" that brought Jeff Chimenti's keyboard work to the forefront as his fingers tickled the ivories on the grand piano and saved the tune.  When "Candyman" morphed into a take on "Bertha," the crowd really got going as Mayer stretched out with a dazzling solo but it was a grinning Weir that electrified the room as he punctuated things with some inspired rhythm work.  The crowd was eating it up but unfortunately the band squandered the energy with a "Lost Sailor" that sent many (myself included) scrambling to get to the restrooms before the inevitable "Saint of Circumstance" brought some energy back to the room just in time for setbreak.
The band slammed into the second set with the beloved "Help On The Way," "Slipknot," "Franklin's Tower" tryptic.  Despite some slight missteps here and there, most of the crowd overlooked any mistakes as they sang along with the iconic chorus and marveled as Oteil Burbridge held things together and showed why he is the hidden gem in this ensemble.  Another favorite of mine, "Estimated Prophet," soared before stumbling into a "Dark Star" that showed off this band's ability to explore the Jazzier side of the canon with Chimenti again wowing the crowd on keys.
The "Drums" segment of the show was traditionally my cue to hit the head, but on Tuesday Hart and Kreutzman amazed with a lengthy percussion jam that was reminiscent of current acts like Shpongle and gave some insight into how influential The Dead have been outside of the world of "Jambands" as well as in.  Hart bowed "the beam" and pounded out low-end heavy rhythms as the crowd danced their way into a "Space" jam that featured the rare occurrence of Hart remaining on stage as Mayer kicked things off with a strong solo.
With the first notes of "Black Peter" I lamented that it wasn't really what the crowd needed at that point in the show but the majestic and mournful tune built into a glorious peak that was largely led by Chimenti's organ work.  I've always loved this tune, and Dead and Company showed me a new side of it on Tuesday as they used it as a transitionary vehicle into a set closing romp through The Young Rascals' "Good Lovin'" that started out a little flat but hit its stride as Bobby poured his heart into a near rap toward the end.
The evening wrapped with a solid take on the 80's anthem "Touch of Grey" and the room was all smiles.  Sure there were issues, but that's always been The Dead.  What this band made clear on Tuesday was that they are playing a beloved catalog with renewed energy and passion that could keep the faithful engaged and on their toes for years to come.  There is new reason to love The Dead, warts and all.
Energy: B+
Musicianship: A
Sound: A-
Stage Presence: B+
Set/Light Show: A
Overall: A-
Music has always been a part of my life. It probably all started listening to old Grateful Dead, Peter Paul & Mary, and Simon & Garfunkel records that my parents had, but it wasn't long before they were taking me to concerts like Starship, Crosby, Stills & Nash, and Huey Lewis & The News. I got the bug to write about music after reviewing an Eric Clapton concert for a creative writing project in high school but didn't really take it up seriously until 2002. Since then I have published countless articles in The Marquee Magazine and done some work for Jambase.com, SPIN Magazine, and various other outlets. I started Listen Up Denver! as a way to share the music information that is constantly spilling out of my head with people who care. Please enjoy!