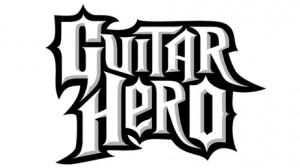 It seems guns sell better than guitars. The company that makes the video game Guitar Hero announced Thursday it will stop manufacturing the game. After its introduction in 2005, Guitar Hero quickly became a gaming staple.
The first two versions were available only on Sony's PlayStation consoles. But sales were so successful that living-room guitar shredders were soon able to jam with their favorite classic rock bands on just about all gaming platforms. For a while, the series was a cash cow for its maker, Activision Blizzard, Inc. To play the game, users had to shell out for guitar-shaped controllers as well as software. New songs could be purchased individually or in themed packs. A competing game, Rock Band, was introduced in 2007.
But sales peaked in 2008, and the title has struggled since.
Activision announced the franchise was losing money while the simulated war games Call Of Duty and World Of Warcraft are both big money-makers. So the plastic replica guitars and drum sets may go the way of Donkey Kong and PacMan.
It's not yet time go scrounging for discarded guitars and microphones at neighborhood yard sales. While Activision will not manufacture new versions of the games or the instruments to play them on, new music will be available as digital downloads.

Music has always been a part of my life. It probably all started listening to old Grateful Dead, Peter Paul & Mary, and Simon & Garfunkel records that my parents had, but it wasn't long before they were taking me to concerts like Starship, Crosby, Stills & Nash, and Huey Lewis & The News. I got the bug to write about music after reviewing an Eric Clapton concert for a creative writing project in high school but didn't really take it up seriously until 2002. Since then I have published countless articles in The Marquee Magazine and done some work for Jambase.com, SPIN Magazine, and various other outlets. I started Listen Up Denver! as a way to share the music information that is constantly spilling out of my head with people who care. Please enjoy!