The Scene: Costumes, costumes, costumes! It was Halloween afterall and we all know how music fans like to dress up. Over the course of the night I saw some fantasic outfits and there was even a costume contest that the Fillmore sponsored. About 30 people were brought up on stage between Gomez and Robert Randolph's sets and they had the opportunity to introduce themselves to the crowd. Third place went to a fantastic Oompa Loompa, second went to Bert and Ernie and the first place winner (and recipient of a 2007 pass to the Fillmore) was Bender from Futurama. I have to say that Bender's costume was one of the best I have ever seen. He even had glowing yellow eyes. Kudos to that guy!
Other costume highlights were Jack Sparrow (Pirates of the Caribbean), Waldo (Where's Waldo?), Shaggy and Velma (Scooby Doo), Raoul Duke (Johnny Depp's character from Fear and Loathing), The entire Adams Family and the Bearded Nun that was dancing near us all night.
Even the stage was in costume. A tapestry hung at the rear and glowing street lights on each side made us feel as if we were looking down a deserted urban street late at night. The lights that danced on the backdrop throughout the night made it look at times dark and foreboding and at others as if it were on fire depending on the feel of the music at the time. It was a great way to add that extra little bit to an already festive evening at the Fillmore.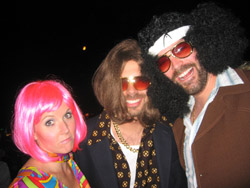 It was a great vibe and people seemed to really be enjoying themselves all night. Even the bartenders were dressed up and having fun. People were dancing, talking and just generally partying it up for Halloween. The crowd was largely in their late 20's but the grey hairs showed up to rock along as well. Overall a very well behaved and fun crowd to celebrate the holiday with.
Opener: Rodrigo y Gabriela. Unfortunately many people missed this fantastic set, due to some some poor promotion by the Fillmore. The tickets and all the other promotional material put out for this show publicized a 7:00 start time and Rodrigo y Gabriela hit the stage at 7:05 (25 minutes early) and ended at 7:35, only 5 minutes after they were supposed to start. Fortunately Lindsay and I got there early and were able to catch about 15 miutes of their set.
Rodrigo y Gabriela are a Mexican duo who both play nylon string acoustic guitars. It is clear that much of their training is in the Flamenco tradition and they showed amazing chops as they worked together to create a dazzling sonic tapestry of percussive guitar that ranged in style from Flamenco to almost thrash metal (if you can imagine that on a nylon string guitar). Think Rocked out Gypsy Kings with two amazing guitarists.
I am not familiar enough with their music to list any song titles but suffice it to say that I will be learning more about them as soon as I can. They got a great response from the sparse crowd that had filtered into the Fillmore early and I know there were many more fans to be made had they been allowed to start at 7:30. I highly recommend checking out Rodrigo y Gabriela when you have the chance.
Gomez: I have seen Gomez a handful of times and I have got to admit this wasn't one of their strongest performances. Bathed in smoke the members of Gomez came out one at a time in full costume, The Pope, A Deviled Egg, A Fat Landlord with a Mullet and other less recognizable costumes (see pictures below courtesy of Captain Stephanie from the Gomez Forum) got their portion of the evening off to a fun start.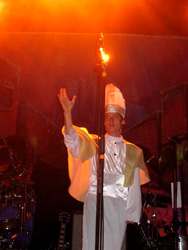 However, as they kicked into the first song of the set it seemed as if they were all a bit slow and things weren't gelling completely. The vocals seemed weak and low in the mix and they didn't seem to be working together as a band. In the past when I have seem Gomez they have been very tight and their live sound has pounded their songs into your head. It just wasn't true tonight.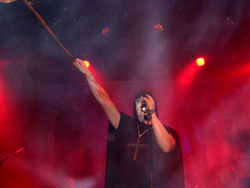 As their 90 minutes wore on they did step it up a bit and it seemed that the Halloween spirit got into them as they became more animated passing instruments and portions of costumes around the stage. They even changed the lyrics of "Get Myself Arrested" to be "Get Myself Beheaded." By the time they broke into "Ruff Stuff" I was beginning to see flashes of the old Gomez. Their jams were tighter and the vocals were coming through with a bit more passion. Maybe I just liked the electronic influences that dominate their 2002 release In Our Gun more than their current stripped down organic sound that has made them more popular in the Jamband and pop radio cultures.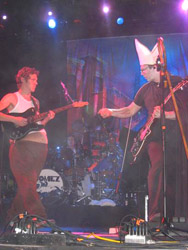 Don't get me wrong they didn't put on a bad show, I just expected more from them and they left me feeling a bit disappointed and not as revved up as I hoped I would be by the time they left the stage. Maybe it was the fact that they were playing early (8:00 – 9:30) and not in the headlining spot or the fact that much of the crowd was there to hear Robert Randolph but I don't think that Gomez brought their "A Game" to The Fillmore.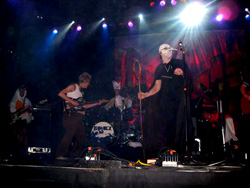 Robert Randolph & The Family Band: The Family Band came to party and their high energy, Funk infused Rock-n-Roll was exactly what the crowd was looking for to kick the night up a notch. At about 10:10 Randolph and company took the stage in costume. Robert himself was a dressed as a member of the Loyal Order of Water Buffaloes (Flintstones) I think. He wasn't quite Fred or Barney but the headgear was unmistakeable. The rest of band was looking good in full 70's funk regalia (see photos below courtesy of PaigeB1081 from the Robert Randolph message board).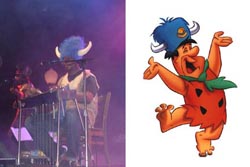 As the band kicked into their first song the crowd started dancing and really didn't stop all night. Randolph's prowess on the Pedal Steel was immediately apparent to even the most novice music fan in attendance as his blistering solos added to the smoke that shrouded the stage. The Family Band backed him valiantly and kept up all night.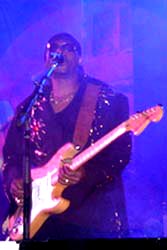 Two or three songs into the set Randolph introduced "The March" and the crowd went nuts. Originally released on his debut record, Live at the Wetlands, "The March" is a crowd favorite and did not dissapoint. As Lindsay pointed out, much of Randolph's music has a similar feel to it and diversity of genre is not his strong point, but if you are looking to see a tight band rock their way through some funk and soul, they are a great choice.
Also early in the set the band broke out the Curtis Mayfield classic "People Get Ready." I am a huge fan of this song but unfortunately this version just didn't do it for me. The Family Band's performance lacked the passion that is required to pull off a song that is so ingrained in the social fabric of our country. Mayfield was making a statement and that statement just didn't come through tonight.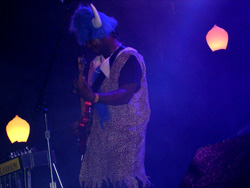 From time to time throughout the evening Randolph stood up from the Pedal Steel and picked up a Fender Strat to show us he could handle six strings just as well as he could the 13 of the Pedal Steel. He showcased tunes from his Grammy nominated first studio release Unclassified as well as Live at the Wetlands and his more recent Colorblind. The true feel of the 70's came through when Randolph ripped into his version of "Jesus is Just Allright" that he recorded for Colorblind. Unlike the earlier version of "People Get Ready" they nailed this one. The chorus was almost up to par with the original as the band seemed to channel The Doobie Brothers for a couple of minutes.
In the tradition of a good party Randolph invited a couple of guests up on stage during his set, well more than a couple. During an extended version of "Shake Your Hips" about 40 costumed ladies from the audience climbed up onto the stage to shake their hips with The Family Band. Nurses, French Maids, Cheerleaders and others danced all over the stage as Randolph and his band gawked and tried to avoid a trainwreck.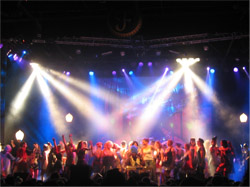 In a less provacative move, he also invited a young guitar player to join the band for a few songs. Randolph introduced the guy (I apologize for not getting his name) as being from his hometown in New Jersey. Apparently he now attends college out here in Colorado and let me tell you he can rip! He was, for the most part, keeping pace with the band and that is no easy task.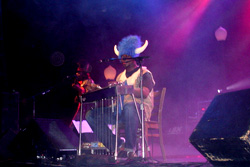 The highlight of the evening came when The Family Band let the Funk fly with "Diane" a gem of a cut from Colorblind. The sweat was flowing as wigs bounced atop the heads of costumed dancers all over the floor. I think even Bender got his groove on to this one. If only the whole show could have had this much energy. This track is a must for fans of good ol' fashioned Funk.
The festivities wrapped up just before midnight with a powerful version of "I Need More Love" that led into Harold Faltermeyer's "Axel F" (Beverly Hills Cop). The crowd had thinned out a bit but the true revelers stuck it out to the end to see the band wave good bye from the stage as they capped off a five hour Halloween celebration at The Fillmore.
Energy: A-
Sound: B+
Muscianship: B+
Stage Presence: A-
Set/Light Show: A
Overall: B+

Music has always been a part of my life. It probably all started listening to old Grateful Dead, Peter Paul & Mary, and Simon & Garfunkel records that my parents had, but it wasn't long before they were taking me to concerts like Starship, Crosby, Stills & Nash, and Huey Lewis & The News. I got the bug to write about music after reviewing an Eric Clapton concert for a creative writing project in high school but didn't really take it up seriously until 2002. Since then I have published countless articles in The Marquee Magazine and done some work for Jambase.com, SPIN Magazine, and various other outlets. I started Listen Up Denver! as a way to share the music information that is constantly spilling out of my head with people who care. Please enjoy!