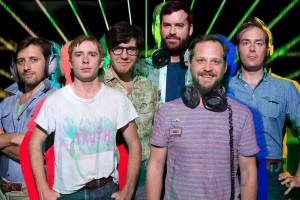 Why You Should Go: Long known for their must-see live shows, Dr. Dog have lately been rather quiet on the touring side of things. Asked if they were getting a little weary of being on the road, front man Toby Leaman laughs, "I've never been busier in my life; I can't wait till we're out on tour and just playing shows". After releasing a live album at the top of 2015, Dr. Dog immediately began an intense collaboration with The Pig Iron Theatre Company, setting out to present their legendary (though still unreleased) 1999 album, The Psychedelic Swamp, in theatrical form. With a cast of 30 and an oversized production budget, the performances amazed both rock fans and theater-goers alike, the Philadelphia Inquirer's pop critic called it "Ingenious" and "Full of heart and soul." The band is currently in the process of recording two new albums, which they'll continue working on the remainder of the year until they take a "break" and spend the first half of 2016 on the road. Dr. Dog will be supported at The Ogden by Bright Light Social Hour, making this a night of must see music!
Venue:  The Ogden Theatre, 935 E. Colfax Ave Denver, CO 80218 – 303-832-1874
Doors: 8:00 p.m. Showtime at 9:00 p.m.
*Price: $25.75 Adv. $27 DoS Purchase Here
*All prices are gathered from other sources and we are not responsible for mistakes or inconsistencies. They are intended only as guidelines. Please, always call the venue if you desire the most accurate information possible.

Nate Todd was born on the central plains of Nebraska, but grew up on the high plains of the Texas panhandle. With not much to do in either place, music was his constant companion. His parents dubbed the first two albums he ever owned onto a tape for him. Side A was Bert and Ernie's Sing Along. Side B was Sgt. Peppers. His lifelong love affair with music started early as he practically grew up in a Rock & Roll band, with his father and uncle often taking him out on the road or into the studio with them. Nate began performing live at sixteen and hasn't looked back, having played in numerous bands from L.A. to Austin. At the age of twenty he was bitten by the writing bug, and upon moving to Denver decided to pursue a degree from Metropolitan State University where he recently graduated with a B.A. in English and a minor in Cinema Studies.