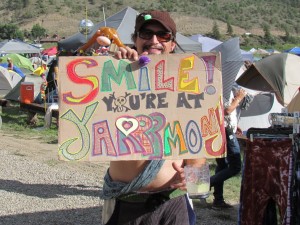 Photos by Brian Spady,  Ben Wilson, and Jon Prins
Our Yarmony group departed from Fort Collins on Thursday evening eager to visit Rancho Del Rio for the first time. After a lengthy but pleasant trip we arrived at State Bridge along the Colorado River, eager to begin our adventures at YarmonyGrass.  Four miles up the road from this little town sits Rancho Del Rio, a popular resting place for rafters as well as the home to a small village of raft guides and mountain folk. It's definitely off the beaten path, which is why people are pretty much left alone up here. They seem to really enjoy the rafting lifestyle, not to mention the setting deep in the flattops that is pretty spectacular.  It's definitely a friendly place full of warm, happy Colorado folk.
A general store with a well-stocked liquor shelf greets you as you turn off the dirt road and a small BBQ stand is also a popular draw in this remote river community.  Proceeding further down the road we entered the gates for the Yarmony Grass festival. We were given a parking spot and soon found ourselves hauling gear across a small dirt road and on to the grassy banks of the Colorado River.
In terms of locations to host a festival, it really doesn't get any better than this. Every campsite was within 200 feet of the river and a small number even bordered the river directly. We quickly set up our camp and made instant friends with hippies and revelers who hailed from everywhere from California to New Jersey. Most of them had been to YarmonyGrass before and they all said it's the festival they clear their schedules for every summer because it just brings together the best group of people and it has a certain chillness factor that a lot of larger festivals can't match. I knew by the smiling faces that everyone wanted to talk and introduce themselves and it didn't take long before I located several other groups of kids from Fort Collins.
One of the best things about YarmonyGrass is that the festival site is dotted with huge fire pits that everyone takes advantage of. Lighted hula-hoops brought color to the evening as the sweet sound of homegrown banjo pierced the cool air. As we got settled I noticed the unusual cast of YarmonyGrass pirates, nomads and musicians who soon began populating the campground in droves. As we got to know those around us, everyone seemed to have their own story about how and why they were here. One lady began laying out beautiful homemade silk clothing from her studio in California while speaking elegantly about the powerful impact that festivals have on our community. Another man walked through with two small children in tow explaining that he wanted them to grow up with a deep love for bluegrass music. I remember wishing that my parents had done the same thing for me but that it seemed so out of the question at the time.
In the thick of this activity, we calmly sat by the crackling fire, conversed about life and enjoyed a few brews beneath the Colorado moon. It had been a long day so we halted the party early to be prepared for the coming two nights of bluegrass madness. Slowly I drifted off to sleep relishing the cool mountain air.
Day 1 – Friday, August 5th
A relaxing morning quickly turned into a beautiful afternoon as the Dead Winter Carpenters took the stage to kick off the music with a slow but enjoyable set of rock, folk, and bluegrass Americana. It was the first time I heard sound coming of this river front stage and damn did it sound good.
Despite the excitement that was building at the main stage, people were clearly still getting geared up at their campsites because the crowd was fairly sparse at this point.  YarmonyGrass is no ordinary festival in the sense that you don't have to divide your time between the camp site and festival grounds, at Rancho Del Rio those two places are almost intertwined and there is no security to go through to enter the stage area.  Even more amazing is that it's no more than a five-minute walk to any campsite so I found myself going back and forth between every set.
At one point I made my way backstage where they were offering free massages and delicious iced tea, nothing too fancy, just the proper amount of perks. Guitarist, Scott Law was jamming and preparing for his multitude of appearances and he looked so insanely happy to be there that I thought he might fling himself on stage at any moment.
After a short nap, I returned to the stage for a set from Peter Rowan and The Traveling McCourys.  In typical fashion, Rowan blessed us with his beautiful voice as he ran through classics from Bill Monroe's extensive songbook.  Rowan is someone who commands respect when he's on stage and while he has some serious guitar chops, it's really his voice that stirs the crowd.  As he played, the bright Colorado sun slowly set and it was extremely peaceful to hear a set of traditional bluegrass as daytime gave way to night.
Towards the end of the show, Peter performed a yodeling number perfectly blending between his majestic voice with a piercing yodel that rang out across the valley, seemingly calling out to the bluegrass spirits traversing the river.  It was a great way to welcome the night.
After a rousing set from the Emmitt-Nershi Band, Head for The Hills took the stage as the headliners of night one of YarmonyGrass. Surprisingly, they entered the stage with a keyboard player, which definitely moved them away from the traditional bluegrass sound I've seen them perform countless times. As the first notes of "Solar Bowling Shoes" rang out over the crowd I knew they had come a long way. It was a smooth bluegrass jam and their voices were in complete harmony with their instruments. In the past, Head for the Hills has always impressed me with a traditional bluegrass sound that feels like its progressive and forward thinking. Unfortunately, this sound always felt repetive to me in its live form. On this day though, with the addition of a keyboard player, they showed they could jam while still maintaining gorgeous bluegrass harmonies.
A highlight of the set was the melodic "One Foot in the Grave" off their first album, produced with the helping hand of Drew Emmitt. Would it be over the top to suggest they sounded like an entirely different band? Probably not. Their set was spot on and gave an avid bluegrass fan like myself reason to believe the genre is progressing and not stagnating.
After a couple of awesome covers, they brought the crowd back to earth with a silky smooth rendition of "Colorado Backcountry." Of all the songs they played, this one made me smile the most because it gives fans a sense of where the boys come from and what they love the most. Towards the end of the set they brought Emmitt out to jam with them. He feverishly strummed the mandolin as the rest of the boys broke into a lengthy and rollicking jam. This was great stuff from the bluegrass boys of Fort Collins.
The temperature had dropped sharply at this point in the night and you could feel the fall like chill in the air as people began reaching for jackets and jeans.  In the midst of this transition, an eerie glow from the almost full moon hung over the stage illuminating a buzzing group of bluegrass fanatics who had just witnessed a dynamite performance. After exiting the stage to raucous applause, the dance party swung back to the campsite for the remainder of the night.  Yarmony Grass was alive with life.
Day 2 – Saturday, August 6th
We awoke on the second day of YarmonyGrass still buzzing from the excellent performances of the night before. We spent the day cooking brats and burgers over the fire while continuing to converse about music and life. The clock ticked slowly towards 4:45 when music would kick off once again.
Bill Nershi and Scott Law got things started with their Santa Cruz Guitar set. Santa Cruz is a company out of California that is making really  good instruments with a distinctive sound right now. My first thought when they started picking was "whoa these guitars sound so clean it's incredible." Under the late afternoon sun, these incredibly beautiful guitars serenaded me into almost perfect submission. Nershi would start out slow, followed by the quicker picking style of Law and soon they would be in perfect harmony, just two guitars dancing among the afternoon shadows.  I was very impressed with this set because not a single person was dancing as Nershi and Law had the crowd entranced the whole time. The only noises I heard were a few shallow gasps when certain notes were played. I don't think I was the only one to get the chills from this acoustic guitar set. Amazing stuff!
Andrew McConathy and the Drunken Hearts took the stage next for what would be end up being one of my favorite sets of the weekend.  Although I hadn't heard of McConathy before, he has a very distinctive voice and personality that lends itself well to being the ambassador of the festival. His band backed him up admirably by playing loose and letting McConathy's story telling take center stage.  There must have been a memo about wearing crazy hats at this festival because Andrew's Alice in Wonderland like top-hat was a pretty noticeable addition.
We laughed and cried as Greensky Bluegrass floored us all in typical blue-sky green-grass fashion. Of all the bands at the festival, these guys were the ones I had seen the most and while I was thrilled with the masterful dobro playing and their harmonies that are second to none, my eyes and ears were ready for a break from Bluegrass and looking forward to the sonic assault that was about to take shape with The Trancident.
The Trancident took the stage a short time later. To witness Michael Kang, Michael Travis, Jason Hann, Kyle Hollingsworth and Keith Moseley onstage together again was like a dream come true. The fact is, not even the band really knew what they were about to play or even what they were going to sound like. Travis even admitted at the beginning that they were going to "give it a try and see what happens."
When the first funky notes of Moseley's bass rang out I knew we were in for it.  They descended into a crazy blend of electronic funk perpetuated by Michael Travis's EOTO like sound effects and Jason Hann's dazzling drumming. Kang even pulled out the fiddle for a dizzying version of "Valley of the Jig."
I have to say, it was more than obvious that Travis enjoys dominating a set, even when he's collaborating with other people. His never-ending supply of dub-step wobbles, voice over effects, and thumping beats was almost too much to handle. I vividly remember Hollingsworth turning to Kang across the stage and cringing every time Travis skipped and cut the track. Don't get me wrong it sounded brilliant at times, but you would think guys who have so much history playing together might be more on the same page.  At times they sounded smooth and funky, other times they sounded like an extension of EOTO, nothing more nothing less.  I think when there's so much talent on stage and every person has their own idea of how it should sound, the results can sometimes be inconsistent.
No doubt, I remember dancing my ass off during this set but something was missing musically that's difficult to point out.  Most people I talked to after the show thought of The Trancident set as the "what the heck moment of 2011." Organized chaos I thought to myself; beautiful organized chaos.
The Yarmony Grass Joint Set concluded the festival on night two. In my opinion this was worth the price of the ticket alone.  Where do I even begin with the list of musicians that graced the stage during this set: Bill Nershi, Scott Law, Peter Rowan, Keith Moseley, all members of Greensky Bluegrass, Head for the Hills, Andrew McConathy, Tim Carbone, Drew Emmitt, The Traveling McCourys… the list goes on.
Not knowing what to expect, all the musicians entered the stage at the same time dressed in pirate garb. Tim Carbone wore an antique pirate cap while Bill Nershi was attired in a swashbuckling cap and shirt and from the get-go they just jammed, pure and simple. I compare it to a circus of bluegrass that somehow works itself out in the end. How can upwards of 10 musicians all play instruments at the same time and still maintain a clear sound? Who knows, but the results were pure unadulterated awesomeness.  The highlight was the loud and proud rendition of Grand Funk Railroad's "We're An American Band" which Bill Nershi and company soulfully belted out.
I'm hard pressed to remember a show where I've smiled wider, sang louder or danced any zanier, it was just that good.  Alas, after two days without much sleep, the whirling jams started to trance me out and I began nearly fall asleep while standing up. The set concluded a short time later with an absolutely wicked jam that featured Anders Beck on Dobro and some devilishly delightful bass from Keith Moseley.
When you have this much musical talent on stage at once, the results can be spectacular, and they were.  I kept commenting to the girl next to me how happy all the musicians looked on stage together and she readily agreed providing one of the best quotes of the whole festival "Bill Nershi looks like he could jump into Peter Rowan's arms right now, they look so damn happy to be here!" So it's true, we finally have a festival that makes musicians jump for joy!
Yarmony Grass is more than a music festival; it's a community of like minded people that come together to dance away the troubles they may have encountered in the past year. I don't think it's usually appropriate to ask people about how they conduct their normal lives away from the festival scene, but this was different and everyone wanted to share their stories. I met doctors, lawyers, students and nomads in search of music, first generation hippies, and new school music lovers, kids and their parents.  Each and every person came to Yarmony Grass not just because it's an escape from every day hardship but because they feel so connected to the environment and the people that come back year after year.  I know I'll be making it back to Rancho Del Rio very soon. It's a special place along the banks of the mighty Colorado that bring people together musically even in a time of global unrest.
I've worked various positions in the music industry with Madison House, Rock The Earth and Bohemian Nights. My dream is to travel the world and seek out all the good tunes, beer and food that make life so special. I have a healthy obsession with live music and I'm thrilled to share the epic moments with you.