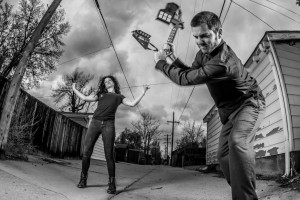 Photo by Jim Mimna
Blake Mobley's Tiger Party has been a funky fixture of the Colorado music scene for some time now but 2016 has been be a watershed year for the big cat collective. Longtime collaborator Ashley Niven joined Blake as a permanent member and together the two lead the cosmic revolving door of stellar musicians that has come to define Tiger Party's ever-changing and unique sound. While Ashley has sung on previous Tiger Party records, the group's newest effort, True North, is their first complete collaboration together. Listen Up Denver! was fortunate enough to catch up with Ashley to talk about True North.
Tiger Party, as always, enlisted the help of some of Colorado's finest studio minds and musicians to record their 3rd full-length album. The duo made the obvious choice of recording at Scanhope Sound, which means harnessing the big brain of Josh Fairman (who also plays bass on the record). Josh was joined by some of his Analog Son bandmates George Horn and Devon Parker. Rounding out the recording lineup was Seth Fankhouser of The Malah on drums, Matt Walton of The Passing Fancy on guitar, Craig Heneveld on electric beats, and the always-versatile Will Trask on percussion. With the lineup in place Blake and Ashley were able to let things percolate.
"We really took our time doing it," Ashley said. "We had an idea of the sound we wanted and I feel that we achieved that. We would hang out every week and throw out ideas. We would love stuff then hate it later [laughs]. Then we might start on something new. It was really just nice to lean into it and have some self-discovery." Self-discovery worked just fine for Ashley as many of her lyrics deal with just that. "A lot of my lyrics are about self acceptance, coming to a new place and discovering yourself. Scary life stuff [laughs]." We agreed with Ashley that those places are where some of the best material comes from but it is Blake's solid musical foundation that gave Ashley a chance to paint with all her colors.
"I'll write something over what Blake has laid down then we'll toss it back and forth between each other. For this album I wrote a lot of the lyrics, but it's always great to have Blake there because we can bounce ideas off of each other. It's good to have two minds because we can make sure that what we're writing is relatable. What we try to do is give someone a feeling and then inspire that feeling."
Inspirational is a good way to describe True North. From the opening clap and clav of "Dance Machine," True North is beckoning you to experience all it's layers. "Dance Machine," as all good opening tracks should, sets the tone of the album as it speaks of a rich guy who is always bumping music but never comes out to "dance." The song is certainly dancey, but not in a tangled way like many dance tracks. The song is well produced with a lot of room to breathe, which believe it or not leaves more room to dance, to feel the groove.
With it's thumping beat and dreamy electric piano, "No Chance" keeps it on the floor but with more of a chillwave vibe than "Dance Machine." The hook is infectious and makes you look forward to the next time it comes around. "If I Told You" provides a nice switch of gears from synth-pop to a more R&B sound, although you wouldn't know that from the reverb soaked piano and synth intro. But when that tambourine and organ kick in you almost get a gospel feeling. Blake crushes just about every classic keyboard on this track from clav and organ to piano and synth.
The downtempo feel of "Yellow Dotted Line" provides a nice respite from the energy of the first three tracks. The song features a solid gold synth solo from Blake and Ashley's theme of self-discovery is very present on this one. "Gold Rising Higher" lives up to its name with a four on the floor beat and a crunchy guitar and organ bridge, carrying the album into its final two songs.
The album's title track has a laid back beat that is contrasted nicely with driving piano and some cosmic synth work. Aptly named, "The Search" leaves listeners to take what they've heard and apply it to their lives with its surreal soundscapes and deep lyrics. Searching is what all good albums should ingrain in you, and True North certainly achieves that.

Nate Todd was born on the central plains of Nebraska, but grew up on the high plains of the Texas panhandle. With not much to do in either place, music was his constant companion. His parents dubbed the first two albums he ever owned onto a tape for him. Side A was Bert and Ernie's Sing Along. Side B was Sgt. Peppers. His lifelong love affair with music started early as he practically grew up in a Rock & Roll band, with his father and uncle often taking him out on the road or into the studio with them. Nate began performing live at sixteen and hasn't looked back, having played in numerous bands from L.A. to Austin. At the age of twenty he was bitten by the writing bug, and upon moving to Denver decided to pursue a degree from Metropolitan State University where he recently graduated with a B.A. in English and a minor in Cinema Studies.