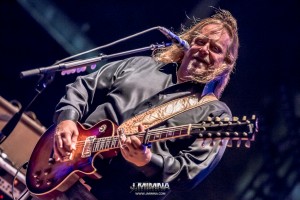 Photos by Jim Mimna
The Scene: Last Thursday's late-summer evening with Gov't Mule, moe. and Blackberry Smoke was a highly anticipated date on the Red Rocks calendar. When we arrived, the more overtly branded Mule fans heavily populated the crowd. Not to be discounted: moe.'s summer tour has been choked full of great performances and wild energy so there was plenty of anticipation in the venue for the New York rockers that split the bill. Young and old were gathered to witness a barrage of really good Rock & Roll. Fortunately, the venue appeared nearly sold-out and most fans had arrived early in time to catch the entire night of music.
Opener: Blackberry Smoke. The Atlanta country-rock revivalists opened the night with a rowdy mixture of songs perfectly fit for the bayou. They opened with a rendition of the Grateful Dead's "Ramble on Rose," followed by an organ-laced and soulful Led Zeppelin tune in "Your Time is Gonna Come." The radio friendly "One Horse Town," closed out the set leaning heavily on lead vocalist Charlie Starr's southern twang.
Moe: I've really been enjoying listening to the summer tour so I was excited to hear what moe. had cooked up for their Red Rocks showcase. There would be a subsequent Boulder Theater performance on Friday evening but Thursday night was the big time. Highlights included "Lazarus" with the perfect sunset vocals and screaming guitar," Captain America," and a powerful cover of Mule's "Thorazine Shuffle," that sent swampy ripples throughout the crowd. Al Schnier donned the double neck for a few songs and bassist Rob Derhak was vibrant, especially on the funky madness of "Billy Goat," to close the show.  Overall, this was a fantastic moe. set and overshadowed Gov't Mule in energy and substance.
Moe – August 25th – Red Rocks Amphitheatre:
Rebubula, Lazarus, Annihilation Blues, Haze, Rainshine, Captain America, Moth, Hi & Lo, Brent Black, Thorazine Shuffle, Billy Goat
Gov't Mule: I must admit my relative lack of connection with Gov't Mule's sound. Warren Haynes brings phenomenal talent to the group and he always elevates whatever project he's involved in but I can never seem to consistently wrap my brain around the repetitiveness of the music. There were plenty of hardcore Mule fans at this show and it was easy to see why the group is so respected after this performance that was heavy on covers and featured some great teases and explorations into deeper realms of Rock and Blues.
The show roared to life with "Railroad Boy," and "Mule," teasing "Jungle Boogie," and "Getaway." Warren quickly lit up the night with his positive voice and fearless guitar business. It's evident that watching Warren with Mule versus the recent Ashes and Dust Band is a much more compelling experience. Danny Louis dazzled with some seriously funky notes on the keyboard to compliment the waves of sound.  The distinctive gritty noise of the Mule was evident from the start.
Haynes steered the set towards brighter sounds with the great Allman Brothers cover "Soulshine." The "'shine" sing-along on The Rocks was triumphant and was the perfect ending to a long workday.  The band soon slipped into "Larger than Life" and Warren twisted his way into a smoky "If 6 was 9" snippet as white light illuminated his long hair flowing freely in the windy evening air.  It was during this surprise breakout that Warren's legendary abilities on electric guitar shined the brightest and a serious hush came over the crowd in awe of the insanity of this moment.
The show took on a bluesy vibe with another Allman's song in "Kind of Bird" followed by a wicked bust out into "Happy Together." There was great cohesion and happy faces on stage as the parade of amazing songs continued. It was hard to tell if we were watching an Allman Brothers set, Mule show, or just Professor Warren Haynes going through the history of classic-rock with a satisfied audience.
Unfortunately I lost the set mentally towards the end, and the monotonously bluesy sound began to allow me to creep towards the exit. I made my way to stage level to catch a few more minutes of Mule magic as they descended into two Pink Floyd songs. Although missing the "I Shall Be Released" encore with moe. was difficult, I was still feeding off the energy from what was a really fun night of music.
Gov't Mule – August 25th – Red Rocks Amphitheatre:
Railroad Boy>Mule, Soulshine, Banks of the Deep End, Larger than Life , Kind of Bird, And Your Bird Can Sing, Captured, Opium, One of These Days, Fearless, Blind Man in the Dark 
Energy: A-
Musicianship: A+
Sound: B+
Stage Presence: B+
Set/Light Show: B+
Overall: B+
I've worked various positions in the music industry with Madison House, Rock The Earth and Bohemian Nights. My dream is to travel the world and seek out all the good tunes, beer and food that make life so special. I have a healthy obsession with live music and I'm thrilled to share the epic moments with you.