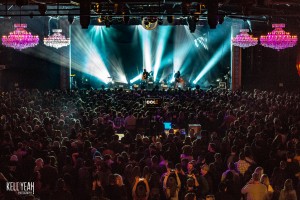 Photos by Kelly Hueseman
The Scene: As usual before seeing a show at Denver's Fillmore Auditorium on Colfax Ave., my friends and I started our night at the bar next door; Sancho's Broken Arrow. One of the town's best dive bars, Sancho's was packed with like-minded concertgoers who were ordering up drinks before heading to the Phantogram show. More than an hour before the Fillmore opened its doors for the night, a long line of fans leaned against the brick building waiting to get inside and lock down a spot close to the stage. Phantogram's haunting beats have generated a cult following of fans who not only adore their music, but also their mysterious presence onstage that would be perfect for a mid-October night.
Opener: The Range. New York-based EDM DJ James Hinton, aka The Range, opened up the show. His remix of "You Don't Get Me High Anymore," one of the latest tracks off Phantogram's 2016 album, Three, was a likely reason he was chosen to tour with the duo. With magnetic energy onstage, The Range was swinging his arms and head banging throughout his set. In addition to his own 2016 album, Potential, The Range also produces music and I'd be excited to see him headline his own show with a full band behind him.
Phantogram: Fitting for the mystifying energy of the New York-based music duo, Phantogram's set began with "Funeral Pyre" from behind a scrim, further enhancing the wild lighting and projections of both Josh Carter and Sarah Barthel's movements onstage. After four songs, the scrim was lifted, revealing Barthel wearing thigh-high leather boots that oozed both dark confidence and dramatic dominance. Although Phantogram is a duo made up of two unique artists, Barthel's powerful stage presence owned the show in Denver and at times I found myself focusing only on her. The band's set mostly covered tracks off their 2016 album, but also included hits from 2009's Eyelid Movies and 2014's Voices. The theatrical lighting and ghostly sound effects synced up with Phantogram's psych-pop music and the crowd seemed to be hypnotized as the night went on.
Energy: A
Musicianship: B
Sound: B+
Stage Presence: A-
Set/Light Show: A
Overall: B+
After growing up in Missouri listening to vintage records of The Allman Brothers, Carly Simon, and Stevie Ray Vaughan, I was hooked to the live music scene and the contagious sounds of guitar licks and soulful lyrics. After moving to Colorado, I've been contributing to Listen Up Denver! as a freelance photographer and writer. I've also started a side project, KellYeah Photography, which gives me the opportunity to pair my passion for live music with my creativity and love of being around people. Aside from photography and writing, I'm an avid hiker of Colorado 14ers and a beer enthusiast.