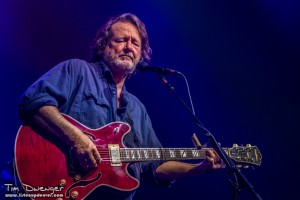 Photos by Tim Dwenger
Southern Jam-Rock titans Widespread Panic kicked off their three night Halloween stand at the 1stBank Center on Friday night and they let a high bar for the run with a set that kicked off with a cover of James Taylor's (yes that James Taylor) "Knocking 'Round The Zoo" that they first played way back in 1986 before diving straight into old favorites like "Imitation Leather Shoes" and another tune debuted in '86, "C. Brown."  It was a hell of a way to kick off a run and it was clear from the get-go that the boys were firing on all cylinders.  The rest of the first set  featured a "Papa's Home" sandwich that showcased the 1940 Blues classic "Fixin' To Die" as the meat and a glorious "Action Man" to close out the first frame.
The second set was a heavy hitter that featured an early take on "Space Wrangler" and a blistering "Dyin' Man" before things got dirty with a run from "Impossible" into "Driving Song" and then "Breathing Slow" before Sonny and Duane hypnotized me with an extended drum jam.  The monster set wrapped with the trifecta of "Ride Me High," "Pilgrims" and a set closing "Porch Song" to the delight of the rabid Friday night crowd.
In keep with the week's tradition leading up to the Halloween run, the band closed the night out with a Black Sabbath cover sung by Schools in the form of the self-titled "Black Sabbath" but before that they delivered a cover of The Doors "The Changeling" much to the surprise of those around me.  As the lights came up the die-hards knew they were in for one hell of a weekend.  Stay tuned for coverage from nights two and three.
Widespread Panic – 10/28/16 – 1stBank Center, Broomfield, CO
Set 1: Knocking 'Round The Zoo > Imitation Leather Shoes, C. Brown, Visiting Day, This Part Of Town > Papa's Home > Fixin' To Die > Papa's Home, Genesis > Action Man
Set 2: The Take Out > Space Wrangler > You Got Yours, Dyin' Man, Impossible > Driving Song > Breathing Slow > Drums > Ride Me High > Pilgrims > Porch Song
Encore: The Changeling, Black Sabbath
[Only 'The Changeling'; Last 'Black Sabbath' – 10/31/92, 2104 shows]
Music has always been a part of my life. It probably all started listening to old Grateful Dead, Peter Paul & Mary, and Simon & Garfunkel records that my parents had, but it wasn't long before they were taking me to concerts like Starship, Crosby, Stills & Nash, and Huey Lewis & The News. I got the bug to write about music after reviewing an Eric Clapton concert for a creative writing project in high school but didn't really take it up seriously until 2002. Since then I have published countless articles in The Marquee Magazine and done some work for Jambase.com, SPIN Magazine, and various other outlets. I started Listen Up Denver! as a way to share the music information that is constantly spilling out of my head with people who care. Please enjoy!