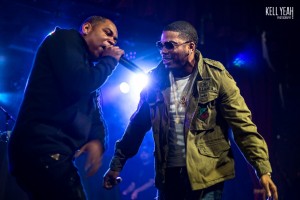 Photos by Kelly Hueseman
To call it "Hot in Herre" was an understatement last Thursday night when Grammy-winning St. Louis rapper Nelly hit the stage at Cervantes' Masterpiece Ballroom for a sold-out show with his Hip-Hop group, the St. Lunatics. Labeled "An Intimate Performance by Nelly," the pre-show conversation had people wondering what type of performance this would be. Would Nelly be pumping out slow jams, or did "intimate" simply mean we'd be up close and personal with one of our favorite rappers from the early '00s? Luckily it was the latter, and nearly every song that shot Nelly to the top of the charts over ten years ago was performed by him and his crew.
For an artist who's been relatively quiet on the Hip-Hop scene for the last decade, you'd never know it as the crowd sang along loudly to every song including "Country Grammar," "Ride Wit Me," and "E.I."
Rapper Kyle Bent and Devan Blake Jones opened the show with soulful performances featuring local musicians including Jordan Linit (of Kinetix and Analog Son).
In 2016, Nelly released a cover of "Die a Happy Man," a country song by Thomas Rhett, and in October he released his 7th studio album, M.O. He continues to surprise fans with new projects and appearances, and his unique artistry that reflects schoolyard beats will continue to be embraced as long as he keeps putting out the hits.
Energy: A
Musicianship: B+
Sound: A
Stage Presence: A
Set/Light Show: A-
Overall: A-
After growing up in Missouri listening to vintage records of The Allman Brothers, Carly Simon, and Stevie Ray Vaughan, I was hooked to the live music scene and the contagious sounds of guitar licks and soulful lyrics. After moving to Colorado, I've been contributing to Listen Up Denver! as a freelance photographer and writer. I've also started a side project, KellYeah Photography, which gives me the opportunity to pair my passion for live music with my creativity and love of being around people. Aside from photography and writing, I'm an avid hiker of Colorado 14ers and a beer enthusiast.