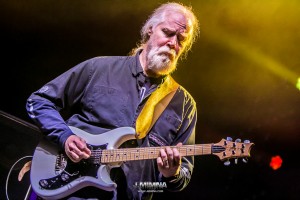 Photos by Jim Mimna
Widespread Panic has been touring under the shadow of a pending break in the action, and the performance results have been nothing short of stunning.  The echos of critics and fans alike are calling this one of the best tours since founding guitarist Michael Houser passed away, and the finale, a three day run at the 1stBank Center was the perfect end to such an epic tour.  On this 'tweener night, the band gave fans the perfect build up to the big Halloween celebration by again showcasing covers by The Doors and Black Sabbath in the encore leading to lots of speculation about the big show on Sunday night.  From the show opening "Coconuts" to the huge bust-out of "LA Woman" in the encore, this show was nothing short of wicked from start to finish.  Don't just take our word for it, check out our photos of day two of the three day Halloween spectacular!
Widespread Panic – 10/29/16 – 1stBank Center, Broomfield, CO
Set 1: Coconut, Holden Oversoul, Sleepy Monkey, Dirty Business > Sharon, Sell Sell, Cease Fire, Jamais Vu, Tail Dragger
Set 2: Surprise Valley > Tie Your Shoes > Surprise Valley > Blackout Blues, A Hard Rain's A-Gonna Fall, Chainsaw City*, Mercy > Drums > Hatfield, Love Tractor
Encore: L.A. Woman > Iron Man
* with Jennifer Kreps on shaker
[Last 'Iron Man' – 10/31/11, 310 shows; Last 'L.A. Woman' – 10/31/97, 1463 shows]
Capturing life in various forms is what I do. I consider myself an archivist by nature. It is not a career choice that I consciously made, but it is something that has called me. I strive to freeze a moment in time with every frame, a moment that can retell its story with each viewing, forever. I also have a deep passion for music and have been photographing and recording live music for years. Capturing the energy and magic of a live performance in a photograph is one of my passions. In addition, I enjoy photographing in a wide variety of settings, from wildlife scenes to family portraits and everything in between. I am a lover of the earthscapes that we see all around us every day, both natural and manmade, and aim to make unique images that do justice to their beauty. Where others see darkness, I see streaks of light through long exposures. I shoot a very wide variety of subject matter including individual/family portraits, event coverage, landscapes, live concert/performance, HDR, product and commercial photography, architectural, weddings, food, and editorial photo journalism. With artistic expression, I aspire to create visual art that speaks volumes.