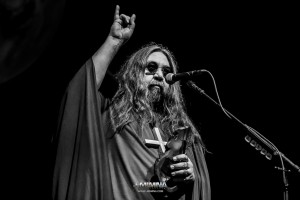 Photos by Jim Mimna
For the second time in three years, the 1stBank Center played host a Widespread Panic Halloween throw-down.  The costumed audience was a tapestry of color and imagination.  Age, race, and sex were all masked by the holiday's disguises and it was sublime to see the release of inhibitions allowing men to wear dresses and women spoof a handsy Donald Trump.  It's only once a year you can see a patron go through security wearing dynamite or have an axe sticking out of their head with ease; long live Halloween shows!   The energy in the air reminded me of the anticipation I had as a kid right before we set out to trick or treat, the good people were about to have some fun!
Widespread Panic loves Colorado and Colorado loves them – it's no secret – and this show was a love-fest of epic proportions.  Little did I know as I first saw the elaborate stage set that it was a hint to the band's costumes and the setlist to be.  Like each of the band members costumes, the stage was a collage of past Halloween shows, and to deepen that theme, most of the songs covered this night where also breakouts from Halloweens past.  But that wasn't enough, they added a twist with another theme.  The first set was heavenly with songs like "Jesus Just Left Chicago," "Angels on High," and "Hallelujah" to name a few, followed by a dark second set of song choices kicked off with a powerful "Slippin' Into Darkness" cover putting together a Heaven & Hell theme to the show.  The heavy second set was capped off with a fist time played cover of "Lithium" by Nirvana, the nastiest teeth-nashing cover of that song I have ever experienced.  Of course the band wasn't done, they returned to the stage to continue the run's encore trend playing a smoking cover of The Doors' "Soul Kitchen" only to be topped by Black Sabbath's classic track "Paranoid."  At this point it was an epic night and I was satisfied, yet they came out for another encore playing "Postcard" and then the perfect tour ending tune, "End of the Show."
Widespread Panic – 10/30/2016 – 1st Bank Center
Set 1: Waiting For The Bus > Jesus Just Left Chicago, Happy, Angels on High, Good People, Heaven, Angels Don't Sing The Blues, Hallelujah, Tall Boy, Ain't Life Grand
Set 2: Slippin' Into Darkness, Machine > Barstools and Dreamers, Vampire Blues, Henry Parson's Died, Beat On The Brat, I Wanna Be Sedated, Chilly Water > Walk On Guilded Splinters > Bust It Big > Chilly Water, Lithium
Encore 1: Soul Kitchen, Paranoid
Encore 2: Postcard, End of the Show
Check out the audio here: http://www.panicstream.com/vault/widespread-panic-10302016-broomfield-co/
Capturing life in various forms is what I do. I consider myself an archivist by nature. It is not a career choice that I consciously made, but it is something that has called me. I strive to freeze a moment in time with every frame, a moment that can retell its story with each viewing, forever. I also have a deep passion for music and have been photographing and recording live music for years. Capturing the energy and magic of a live performance in a photograph is one of my passions. In addition, I enjoy photographing in a wide variety of settings, from wildlife scenes to family portraits and everything in between. I am a lover of the earthscapes that we see all around us every day, both natural and manmade, and aim to make unique images that do justice to their beauty. Where others see darkness, I see streaks of light through long exposures. I shoot a very wide variety of subject matter including individual/family portraits, event coverage, landscapes, live concert/performance, HDR, product and commercial photography, architectural, weddings, food, and editorial photo journalism. With artistic expression, I aspire to create visual art that speaks volumes.