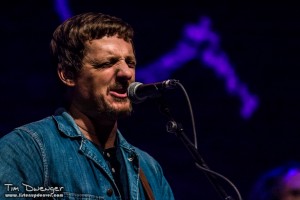 Photos by Tim Dwenger
The Scene: The Paramount was hopping on Friday night and all walks of life were represented.  There were hardcore Country fans, Hipsters riding the buzz, and, of course, legions of Denver music scenesters who know that Sturgill Simpson has finally been awarded his due in the ever fickle world of music.  Long before the show started there was a crowd milling around outside the old venue and queued up for drinks in the lobby where concession lines are always more than painful.
Opener: The London Souls. This Brooklyn duo has been stirring up a bunch of dust over the past few years and despite the fact that I walked in a few songs into their opening set, I saw enough to understand what all the fuss has been about.  The London Souls make a hell of a lot of noise for a duo, but they are more than noise in all the right ways.  They have grabbed onto the best of the 70's and are serving up fuzz soaked guitars, pounding drums, and powerful vocals that made even the most hardcore Country fans stand-up and take notice.
Sturgill Simpson: Sturgill Simpson has taken the Country world by storm over the last few years.  While he's still not embraced by the Nashville establishment and, in fact, has spoken out openly against it, he is very definitely Country.  He's not Country in a Luke Bryan, Eric Church, or Jason Aldean kind of way, he's more in the vein of outlaw legends like Merle Haggard, Johnny Cash, or Willie Nelson and it's thrilling to hear his fresh perspective on the genre.
From the moment Simpson and his band came out on stage, the crowd was on their feet and singing along with almost every song.  From his cover of When In Rome's 80's smash "The Promise" to his own rave-up "Long White Line" (which sounds as if it could have been written by one of previously mentioned outlaw legends) it was clear that the crowd that had packed The Paramount were die-hard fans.
I had a personal thrill when he broke out J.J. Cale's "Call Me The Breeze" early on in the set and though a few people took the chance to go and grab a fresh drink or hit the head, I marveled at how he made the iconic song his own.  The band stretched out a bit as they passed solos around and the horns stole the spotlight.  As the set moved on he delivered a couple more covers alongside songs from his breakthrough record Metamodern Sounds In Country Music including the one-two opening punch of "Turtles All The Way Down" and "Life of Sin."
As he has been doing for most of his current Sailor's Guide To Earth tour, Simpson delivered the entire album, in order, to close the show and wow was it fantastic.  The album is an incredibly strong piece of work in it's own right, but seeing it performed live by this drum-tight band was mesmerizing and the arc and pacing of the record stood out to me in a way they hadn't in the past.  My personal highlight of the evening was the pairing of Nirvana's "In Bloom" and a monster version of "Brace For Impact (Live A Little)" that showcased the band's ability to morph into a psychedelic 70's soul band.  It was nothing short of magical.
Sturgill Simpson won himself a new fan in me on Friday night as he and his band proved they are a little bit Country, a little bit Rock and Roll, and all balls.  What a night!
Energy: A
Musicianship: B+
Sound: A-
Stage Presence: B-
Set/Light Show: C
Overall: A-
Music has always been a part of my life. It probably all started listening to old Grateful Dead, Peter Paul & Mary, and Simon & Garfunkel records that my parents had, but it wasn't long before they were taking me to concerts like Starship, Crosby, Stills & Nash, and Huey Lewis & The News. I got the bug to write about music after reviewing an Eric Clapton concert for a creative writing project in high school but didn't really take it up seriously until 2002. Since then I have published countless articles in The Marquee Magazine and done some work for Jambase.com, SPIN Magazine, and various other outlets. I started Listen Up Denver! as a way to share the music information that is constantly spilling out of my head with people who care. Please enjoy!