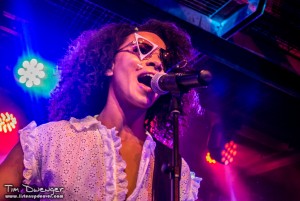 Photos by Tim Dwenger
The Scene:  Though it's been open for a while now, this was my first trip to Ophelia's – the relatively new, swanky club in the Ballpark District – and damn if it didn't impress right off the bat.  The folks who designed this place thought of just about everything.  From the giant TV screen above the stage that was featuring CU as they got beat up in the PAC 12 Championship game, to the stylish decor, powerful sound-system, and great selection of beers and cocktails, this place is on-point.
All that said, this place gets CROWDED!  I had heard it from friends, but didn't really know what to expect.  Given the size of the overall club, and the fact that you can only really see the stage from about half of it, the dance floor fills up quick and on Friday night my friends and I had the unfortunate luck to be right in-front of the biggest asshole in the place and his band of inconsiderate minions.  Minutes before Escort took the stage, this guy started pushing his way through the crowd and eventually shoved me in the back as he tried to push past me.  I'm not sure where he thought he was going as our crew was literally up against the edge of the stage.  I kindly told him that there was no where to go and he continued pushing.  I eventually convinced him and he set up shop right behind us.  Within seconds of the show starting I knew it was going to be bad news as my friends and I repeatedly got pushed from behind by this guy and his minions.  When we turned around we were confronted by smug grins and, in one case, an invitation to join him outside – are we in high school???  Needless to say, about three songs into the set, we picked a shitty view over a brawl and headed upstairs to enjoy our evening.
So, I guess my view of the scene in Ophelia's was tainted by unfortunate luck and a crew of assholes.  I'll have to try again and see how things pan out.
Escort: A little after 11, Brooklyn's Escort took the stage and got the party started.  Kicking things off with "A Bright New Life" from their 2012 eponymous album, it was immediately apparent that this band was dead set on igniting the dance-floor.  As the slickly produced beats washed over us, the crowd responded to Adeline Michèle as she belted out the lyrics, layed down the bass line, and danced in Martini glass shades, a white lace outfit, and over-the-calf tube socks.  Joined by a pair of background singers in watermelon t-shirts, the three voices blended effortlessly and pushed the music to another level.
The set moved on with "Body Talk" and "Barbarians" from their recent release Animal Nature and the crowd was throbbing together as they ate up every note that flowed from the stage.  At times during the night the music transported us all back to the golden age of Disco in the late 70's while at other times Escort showcased their uncanny ability to take such a classic sound and keep it current.  There are a lot of places this band could have played around town, but I can't think of one that would have suited them better than the swank surroundings of Ophelia's.  Pair that with the impeccable sound system and the psychedelic video effects on all the screens around the club, and you had yourself one hell of a party.
Tracks like "Temptation," "If You Say So," and "Animal Nature" were showcased prominently during the middle of the set, but it was the end of the set that gave me what I came for with the one-two-three line-up of "Starlight," "My Life," and "Cocaine Blues."  The seven piece band executed them damn near flawlessly and left me wanting more.  After a two song encore that included "Cabaret" from Animal Nature, they said good night and vanished into the wings.
Escort has been known to take the stage with up to 17 members – billed as the Escort Disco Orchestra – and this performance made me believe that spectacle might well be worth travelling for.
Energy: A-
Musicianship: B+
Sound: A
Stage Presence: A
Set/Light Show: A
Overall: A-
Music has always been a part of my life. It probably all started listening to old Grateful Dead, Peter Paul & Mary, and Simon & Garfunkel records that my parents had, but it wasn't long before they were taking me to concerts like Starship, Crosby, Stills & Nash, and Huey Lewis & The News. I got the bug to write about music after reviewing an Eric Clapton concert for a creative writing project in high school but didn't really take it up seriously until 2002. Since then I have published countless articles in The Marquee Magazine and done some work for Jambase.com, SPIN Magazine, and various other outlets. I started Listen Up Denver! as a way to share the music information that is constantly spilling out of my head with people who care. Please enjoy!