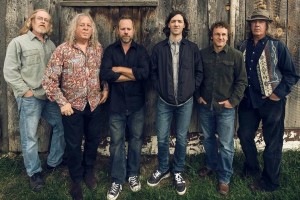 Why You Should Go: Like The Band before them, the members of Railroad Earth aren't losing sleep about what "kind" of music they play – they just play it. When they started out in 2001, they were a bunch of guys interested in playing acoustic instruments together. Railroad Earth's music is driven by the remarkable songs of front-man, Todd Sheaffer, and is delivered with seamless arrangements and superb musicianship courtesy of all six band members who can jam with the best of them.  They have some bluegrass influences, but they use drums and amplifiers (somewhat taboo in the bluegrass world). What kind of music is it then? Mandolin/vocalist John Skehan offers this semi-descriptive term: "I always describe it as a string band, but an amplified string band with drums." Tim Carbone takes a swing: "We're a Country & Eastern band! " Todd Sheaffer offers "A souped-up string band? I don't know. I'm not good at this." Or, as a great drummer/singer/mandolin player with an appreciation for Americana once said: "Rock & roll!"
Venue:  The Ogden Theatre, 935 E. Colfax Ave Denver, CO 80218 – 303-832-1874
Doors: 7:00 p.m. Showtime at 8:00 p.m.
*Price: $35
Purchase Friday Here
Purchase Saturday Here
Purchase Sunday Here
*All prices are gathered from other sources and we are not responsible for mistakes or inconsistencies. They are intended only as guidelines. Please, always call the venue if you desire the most accurate information possible.