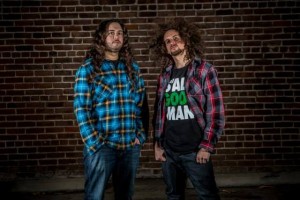 Photo by Jim Mimna
Why You Should Go:  Friends and collaborators of 18 years, Jordan Linit (guitar) and Josh Fairman (bass) have studied the recordings that they respect and admire.  Intensely focused on the composition and approaches of classic funk recordings, with Analog Son they have cultivated a new brand of funk that fuses together vintage tones with modern production.  While they have a steadfast roster of Denver's nastiest musicians in their touring band, their studio albums call upon some of the most sought after musicians that might as well make up the roster for a musical version of the Dream Team.
Black Diamond, the group's forthcoming record, was primarily recorded in New Orleans, Louisiana while Linit and Fairman were at New Orleans Jazz & Heritage Festival earlier this year. Not only does the new record showcase both compositional and improvisational skills soaring to new heights, but it features some of the scene's heaviest hitters including Ivan Neville (Dumpstaphunk), Oteil Burbridge (Dead & Co, The Allman Brothers), Nigel Hall (Lettuce), The Shady Horns (Lettuce), Terence Houston (The Funky Meters), Alvin Ford Jr. (Dumpstaphunk, Pretty Lights Live), and Joe Tatton (The New Mastersounds) just to name a few.
Venue: The Bluebird Theater, 3317 E.Colfax, Denver, Colorado 80206 – (303) 377-1666
Doors: 8:00 p.m. Showtime at 8:45 p.m.
*Price: $12.00 – $15.00
Purchase Tickets
*All prices are gathered from other sources and we are not responsible for mistakes or inconsistencies. They are intended only as guidelines. Please, always call the venue if you desire the most accurate information possible.