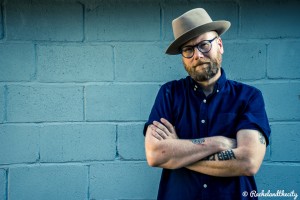 Why You Should Go: Since his days as the frontman of the beloved Jazz-Punk band Soul Coughing, Mike Doughty has been writing incredibly interesting, hooky songs that are sure to worm their way into your head.  For this tour, Doughty is touring with the largest band he's ever toured with: a cello/bass player, drums, another guitar player, an organ player, and a backing vocalist–six people on stage. The show consists of basically live remixing. Using hand gestures, Doughty improvises changes in what the musicians in the band are doing–stopping, starting, getting louder or quieter, changing their parts, repeating their parts. The songs are Soul Coughing songs and Doughty solo songs, but none are ever performed the same way twice.
It's a kind of simplified version of something Doughty saw John Zorn doing with avant-garde jazz in the 1990s, but adapted to be more along the lines of a dance music or hip-hop producer mixing tracks–bringing in the drums, dropping them out, juggling the musicians like samples.
Doughty's newest record, The Heart Watches While the Brain Burns, is his third collaboration with Queens, NY hip-hop producer Good Goose. The elegant, charming album swerves between lonesome country influences, and trap beats. The title is from an off-the-cuff remark Marc Maron made on his podcast WTF.
Venue:  Larimer Lounge, 2721 Larimer Street, Denver, CO – 303.291.1007
Doors: 7:00 pm. Show starts at 8:00 pm.
*Price: $20.00 Adv. $25.00 DoS. Buy Tickets
*All prices are gathered from other sources and we are not responsible for mistakes or inconsistencies. They are intended only as guidelines. Please, always call the venue if you desire the most accurate information possible.