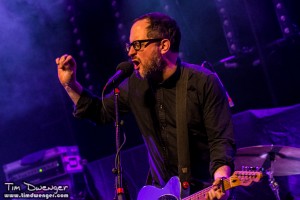 Photos by Tim Dwenger
Craig Finn took the stage on Tuesday night before a largely receptive and rapidly filling room at The Gothic.  Though most of the fans were not out expressly to see Finn, there were lots of hoots and fists in the air as he kicked off the set with "Western Pier" from his 2012 debut solo LP Clear Heart Full Eyes.  The crowd up front was instantly transfixed by Finn's unique vocal style and delivery as he treated us to the lead track from his 2015 album Faith In the Future "Maggie I've Been Searching For Our Son."  Finn was on fire as he delivered sincere thoughts about the current political climate and praised us for all coming on a Tuesday night to spend "real time in a real room with real people" as that's the only thing that has a chance at fixing the current state of our country.
After kicking off the show with a couple of "older" songs Finn gave us a taste of his upcoming LP, We All Want The Same Things, as he delivered a triad of tracks from the album in the form of "Preludes," "Be Honest," and "Jester and June."  The songs fit Finn's style to a "T," deliver rich characters, teen angst, and even showcase his old stomping grounds of Minneapolis / St. Paul.  Though the album doesn't drop until March 24, Finn gave us enough of a taste to win over at least a handful of unsuspecting new fans.  He wrapped up the set with the 2012 cut "Terrified Eyes" sandwiched by "Newmyer's Roof" and "Trapper Avenue," from his 2015 release.  It was short but sweet and Finn delivered a memorable set for those in the know, and those just getting turned on.
Music has always been a part of my life. It probably all started listening to old Grateful Dead, Peter Paul & Mary, and Simon & Garfunkel records that my parents had, but it wasn't long before they were taking me to concerts like Starship, Crosby, Stills & Nash, and Huey Lewis & The News. I got the bug to write about music after reviewing an Eric Clapton concert for a creative writing project in high school but didn't really take it up seriously until 2002. Since then I have published countless articles in The Marquee Magazine and done some work for Jambase.com, SPIN Magazine, and various other outlets. I started Listen Up Denver! as a way to share the music information that is constantly spilling out of my head with people who care. Please enjoy!