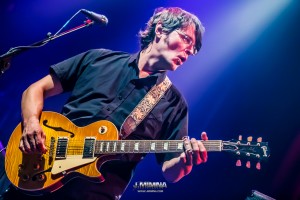 Photos by Jim Mimna
In celebration of the Fox Theatre's 25th anniversary the entire month of March has featured the best series of concerts the legendary venue has booked in a long, long time.  Wednesday night was every bit as momentous when the North Mississippi Allstars brought their delta blues soaked rock-n-roll to the party.
As soon as I arrived I knew the night was going to be a smoker, but nothing confirmed that like having the fire department come screaming up to the front of the venue as I was walking up to the doors.  No, the Fox didn't burn down, it turned out that a concert goer fainted, but all I could think walking in was "the Dickinson brothers sound-check was THAT hot!"
All joking aside, the night was one of the hottest NMA shows I have seen.  It was obvious they love Boulder, you could feel it in the groove and see it in the big smiles they had all night.  Luther is without doubt one the best technical guitar players in the business currently, but beneath the technician is the soul of the blues crafting every note.  His new influences via the many new artist he has been performing with recently shined brightly in his tone and over all play, hearing his licks on "Going Down the Road Felling Bad" was the perfect example of his evolution as an artist, a truly delightful thing for me to witness as a fan.  Cody is a freight train of sound driving them down the tracks behind him.  His role in the music is far beyond the drum kit, as he played keys and guitar at points as well.  He really crushed it all night, the only thing missing was the electric washboard I have come to expect from shows past, but I'll get over it.  To help Cody really do what he does best, they had Dominic Davis play bass, and damn was he a good fit, maybe the best I bass player I have heard with them since Chris Chew (who I miss still).  Not only did Dominic help fatten the sound and give Cody freedom, he knew just when not to play too – that cat was on point all night.   The setlist was packed with NMA standards like "Shake 'Em on Down," "Ballad of Casey Jones," & "Po' Black Maddy," capped of with a warm and heartfelt "Bid You Goodnight" that ended the show perfectly.
Capturing life in various forms is what I do. I consider myself an archivist by nature. It is not a career choice that I consciously made, but it is something that has called me. I strive to freeze a moment in time with every frame, a moment that can retell its story with each viewing, forever. I also have a deep passion for music and have been photographing and recording live music for years. Capturing the energy and magic of a live performance in a photograph is one of my passions. In addition, I enjoy photographing in a wide variety of settings, from wildlife scenes to family portraits and everything in between. I am a lover of the earthscapes that we see all around us every day, both natural and manmade, and aim to make unique images that do justice to their beauty. Where others see darkness, I see streaks of light through long exposures. I shoot a very wide variety of subject matter including individual/family portraits, event coverage, landscapes, live concert/performance, HDR, product and commercial photography, architectural, weddings, food, and editorial photo journalism. With artistic expression, I aspire to create visual art that speaks volumes.