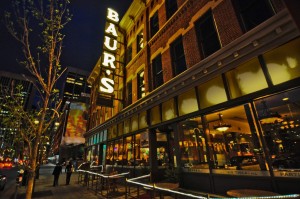 After many years at their location on Lincoln Street, Dazzle is excited to announce that they will be moving to the historic, grand Baur's Building on the corner of 15th and Curtis. Within walking distance of the Denver Center for the Performing Arts and Auraria Campus, Dazzle hopes to continue its legacy as an institute of art and culture in downtown Denver.
Dazzle will officially take over operations on June 1, 2017 but they will host pop-up restaurant nights for the April shows scheduled for Baur's.
For Chuchito Valdes Quartet on 4/14 and Eric Andersen on 4/15, Dazzle's new Star Chef will create a Latin Fusion buffet. The menu will include apps, entrees, and dessert. This all you can eat buffet will have vegetarian and gluten free options.  The buffet requires a pre-purchased ticket which you can purchase below.