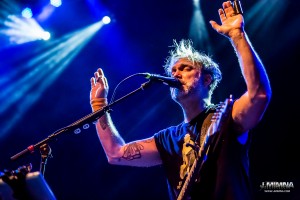 Photos by Jim Mimna
The Gothic Theatre was host to Anders Osborne's "YayaPalooza," a fundraiser for The CAN'd Aid Foundation and the "Send Me A Friend" program on Saturday night.  The "Send Me A Friend" program is a creation of Osborne's with help from The CAN'd Aid Foundation aimed at helping touring musicians struggling with sobriety through a network of "sober friends" across the country that are on call to come to a show and offer a helping hand and source of support.
The cause was obviously near and dear to Anders and company judging by the passionate performance they gave us.  Anders was feeling under the weather, his voice was obviously strained and he even apologized once despite him doing fine for the most part.  The energy he brought to the stage was astonishing, watching him play is second only to hearing.  One thing for sure, his current band is tight.  Eric McFadden has really settled in to his role and has given Anders so much freedom to really stretch out and take the songs in new directions.  Carl has always been a great bass player, but his interplay with Brady Blade's animalistic drum style makes them an almost Led Zeppelin-esque rhythm section.
Starting the show with the first 3 tracks off the new record, Flower Box, had me excited for a live rendition of the album, but I was just as happy to get the "Wind" > "St. John" sandwich followed by the grittiest "Love is Taking It's Toll" I have ever heard.  At that point Eddie Roberts joined them and put his funky spin on a few songs – the pinnacle being "Darkness at The Bottom" – and it was fire!  All things considered this might have been one of the best Anders shows I have seen, I can't imagine if Anders had been feeling 100%!
Capturing life in various forms is what I do. I consider myself an archivist by nature. It is not a career choice that I consciously made, but it is something that has called me. I strive to freeze a moment in time with every frame, a moment that can retell its story with each viewing, forever. I also have a deep passion for music and have been photographing and recording live music for years. Capturing the energy and magic of a live performance in a photograph is one of my passions. In addition, I enjoy photographing in a wide variety of settings, from wildlife scenes to family portraits and everything in between. I am a lover of the earthscapes that we see all around us every day, both natural and manmade, and aim to make unique images that do justice to their beauty. Where others see darkness, I see streaks of light through long exposures. I shoot a very wide variety of subject matter including individual/family portraits, event coverage, landscapes, live concert/performance, HDR, product and commercial photography, architectural, weddings, food, and editorial photo journalism. With artistic expression, I aspire to create visual art that speaks volumes.