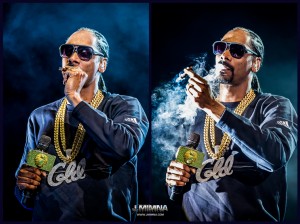 Photos by Jim Mimna
Blunts and beats dominated Red Rocks last Sunday as fans rounded out their 420 weekend with a final session hosted by Snoop Dogg and and his wild crew.  Snoop is currently criss-crossing the country on the Mount Kushmore Wellness Retreat tour as he prepares to drop his 15th solo album, Neva Left, and this stop on the tour featured Snoop performing an intertwined set with Wiz Khalifa and Hip-Hop legends Cypress Hill in the support slot.
The whole night was a sing along, especially when Cypress Hill delivered their biggest tunes like "Hits From The Bong" and "Insane in the Membrane;" rarely does the opener own the audience like that.  Not to be out done, Snoop took the stage before a lit audience that he embraced as he blazed his blunt and got lifted with them.  He immediately got the sold-out crowd singing and shaking with his set opening "Smoke Weed Every Day," and later his classics like "Gin and Juice."  As was the pattern all night, Wiz took the stage and alternated his biggest tracks like "Bake Sale" and "KK" with Snoop through out the set.
I don't know if it was the energy of the sold-out show, the stacked line-up of hip-hop titans, the natural electricity that Red Rocks injects into every concert experience, or just the libations…but this was the best summer concert season kick-off I could have hoped for!  See you this summer at the Rocks, Denver, game on!
Capturing life in various forms is what I do. I consider myself an archivist by nature. It is not a career choice that I consciously made, but it is something that has called me. I strive to freeze a moment in time with every frame, a moment that can retell its story with each viewing, forever. I also have a deep passion for music and have been photographing and recording live music for years. Capturing the energy and magic of a live performance in a photograph is one of my passions. In addition, I enjoy photographing in a wide variety of settings, from wildlife scenes to family portraits and everything in between. I am a lover of the earthscapes that we see all around us every day, both natural and manmade, and aim to make unique images that do justice to their beauty. Where others see darkness, I see streaks of light through long exposures. I shoot a very wide variety of subject matter including individual/family portraits, event coverage, landscapes, live concert/performance, HDR, product and commercial photography, architectural, weddings, food, and editorial photo journalism. With artistic expression, I aspire to create visual art that speaks volumes.