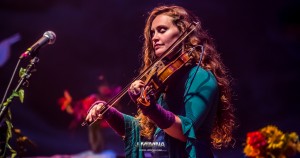 Photos by Jim Mimna
The Scene: With the warm breeze rolling in the windows of my friend's Sportsmobile camper van, a group of friends and I pulled up to Red Rocks Amphitheater on Sunday night ready to kick off summer concert season. As we cracked open our beers on the newly paved upper north lot, our pre-concert conversation covered topics including the looming rain clouds, Bonnie Paine's voice, and memories of Telluride Bluegrass Festival, where Elephant Revival made an appearance at the 40th annual fest in 2013. The cusp of summer in Colorado is a beautiful time of year, full of warm days, cool nights, and dreamy mountain adventures. Even with the rain that we knew would fall that night, summer was close enough that we would huddle together to keep warm and get lost in the music on the rocks.
Opener: Mandolin Orange. All three bands who played Sunday night were well-known to most of us Folk music lovers in Colorado. As Mandolin Orange harmonized onstage and filled the air with earthy tones of Bluegrass, Folk, and southern Gospel sounds, a man named Paul standing next to me shared, "I came tonight just to see Mandolin Orange." A telling statement, and props to Red Rocks for booking shows that attract fans of all bands on the bill and introduce people to new music. Our first band of the night came from Chapel Hill, North Carolina and consists of the talented signer/songwriter, mandolin-, guitar-, and banjo-player Andrew Marlin, as well as violinist/guitarist Emily Frantz. The duo has been invited to play at some of the biggest national festivals, including Austin City Limits, South-by-Southwest, and Telluride Bluegrass Festival. Paul wasn't the only one stoked to be starting his week swaying to the sounds of Mandolin Orange; the venue was packed by the end of their set, which ended with "Hard Travelin'," an upbeat favorite from the band's 2016 EP, Blindfaller.
Opener: The Oh Hellos. The brother/sister duo from Texas, The Oh Hellos are also not new to the music scene. Guitarist/vocalist Tyler Heath and his sister, vocalist Maggie Heath, formed their Folk group in 2011 and have dished out four albums since.
Last year, The Oh Hellos played an afternoon set at the 43rd Annual Telluride Bluegrass Festival, where I first heard them play live. Perfectly placed between Mandolin Orange and Elephant Revival on the lineup, The Oh Hellos' songs swept a calming, hypnotic energy over the crowd. To me, Maggie Heath's voice is one of the most soothing and tranquil voices in folk music today. Matched up against brother Tyler's passionate strumming on guitar, the music this band shares with the world is a special sound that comes from the intuitive nature of playing music with your sibling.
Similar to Mandolin Orange, The Oh Hellos also have close to a million monthly listeners on Spotify, and Denver is listed as the city with the second-most listeners of both bands.
Elephant Revival: When you've been living in Colorado for as long as I have, you come to realize quickly the great amount of musical talent our state breeds. That said, it's incredibly exciting when one of the bands we've been supporting for years starts getting national attention. Elephant Revival came from a little-known town a 30-minute drive up the canyon from Boulder, Colorado. The mysterious town of Nederland (referred to by locals as "Ned") doesn't have cell phone service, and isn't a typical stop on a tourist's map. And perhaps that's why this town has shaped such unique artists as the ones who make up Elephant Revival. Aside from violinist/vocalist Bridget Law, who is from Denver, the other four members of the band are straight outta Ned. While Sunday's show at Red Rocks was my first time seeing Elephant Revival live, I've known of the band for years and have seen Law perform in local Denver bands over the past few years. Her impressive playing and stage presence alone was enough for me to look forward to this show and know it would be something special.
As I mentioned earlier, my friends kept talking about Bonnie's voice and, although I've heard her sing on albums, hearing her voice live is tough to describe. Her unique vocal range spans from an other-worldly aura of mystery and magic all the way to a modern-day Folk singer with a bottomless pit of emotion and breath. Watching her perform is another experience in itself. As she passionately played her washboard or musical saw, it was hard to take my eyes off of her. She appears to be dancing in sync with her instruments – eyes closed, body swaying side to side, her face lit up by the sounds of her band behind her.
The tribal sounds of the night continued as Bonnie pulled out her stompbox, and others in the band continued to wow the crowd with a wide range of musical talent, including Charlie Rose on pedal steel and cello, or Daniel Rodriguez on banjo and double bass. It did rain on us Sunday night, but only our clothes were dampened, certainly not our spirits. Songs such as "Grace of a Woman" had everyone on their feet, dripping with rain, but joyfully singing the chorus at the top of our lungs. The music went on, got louder, and became more powerful. The stories behind the lyrics of songs such as "Remembering a Beginning" and "Drop" became more meaningful. And the graceful aerial dancing from Boulder-based Fractal Tribe added to the show truly becoming a spiritual experience.
Throughout their set, Bonnie reminded us that her mother was in the crowd, and while a few songs she introduced with a story related to her mother, it was the first song in the band's encore that took everyone's breath away. Her solo performance of the song she said was sung to her as a small child by her mother, was full of raw emotion, unbridled spirit, and curiosity. Once again, the crowd was enchanted by Bonnie's voice.
Capping the three-song encore was "Sing to the Mountain," which led to lots of foot-stomping, singing along, and actual howling from everyone both on- and off-stage. It was the perfect choice to end the show and send new and old fans of Elephant Revival into the winds of summer.
Energy: A-
Musicianship: A
Sound: A
Stage Presence: A-
Set/Light Show: A
Overall: A
After growing up in Missouri listening to vintage records of The Allman Brothers, Carly Simon, and Stevie Ray Vaughan, I was hooked to the live music scene and the contagious sounds of guitar licks and soulful lyrics. After moving to Colorado, I've been contributing to Listen Up Denver! as a freelance photographer and writer. I've also started a side project, KellYeah Photography, which gives me the opportunity to pair my passion for live music with my creativity and love of being around people. Aside from photography and writing, I'm an avid hiker of Colorado 14ers and a beer enthusiast.