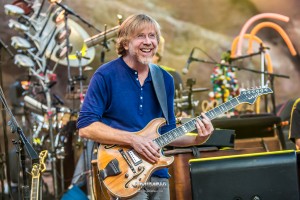 Photos by Jim Mimna
Trey Anastasio, legendary guitarist for Phish, stopped into Red Rocks for the first time since 2009 (and first time with TAB since 2005) and there's no doubt he was happy to be back.  Anastasio's grin was a near permanent fixture from the first time he appeared on stage to sit in with Vulfpeck for a take on "Rango" early in the night, till the final notes of "Dazed and Confused" reverberated off the rocks and disappeared into the night air.  In between Anastasio and his band delivered a genre-spanning first set that featured the Latin rhythms of "Mozambique" alongside the driving, horn-laden Funk of "Burlap Sack and Pumps," and the sweet melancholy of his take on the classic tune by The Band, "It Makes No Difference" all jammed into the first set.  The second set picked-up where the first ended and delivered with some more recent gems like "In Rounds" and an "Architect" that mesmerized people with an incredible solo that featured the guitarist bathed in white, shimmering light.
In addition to all the Anastasio originals, the band showcased several stellar covers including Leon Russell's "Delta Lady," The Gorillaz "Clint Eastwood," and a noteworthy take on "Feel It Still" by Portugal. The Man.  In the end, Anastasio and his eight-piece band gave us what we were looking for and everyone left with a smile on their face.  Let's not make it 12 years before this band takes the Red Rocks stage again!
Trey Anastasio Band | Red Rocks Amphitheatre | Morrison, CO | 5/31/2017
Set One: Pigtail, Mozambique, Sand, Curlew's Call, Cayman Review, Magilla, Dark and Down, Money Love and Change, Feel It Still (Portugal. The Man cover), It Makes No Difference (The Band cover), Burlap Sack and Pumps, Gotta Jibboo
Set Two: Everything's Right, Night Speaks to a Woman, Tuesday, In Rounds, Delta Lady (Leon Russell cover), Valentine, Drifting, Architect, Plasma, Shine, Clint Eastwood (Gorillaz cover), Mr. Completely, The Parting Glass
Encore: First Tube, Dazed and Confused (Led Zeppelin cover)
Music has always been a part of my life. It probably all started listening to old Grateful Dead, Peter Paul & Mary, and Simon & Garfunkel records that my parents had, but it wasn't long before they were taking me to concerts like Starship, Crosby, Stills & Nash, and Huey Lewis & The News. I got the bug to write about music after reviewing an Eric Clapton concert for a creative writing project in high school but didn't really take it up seriously until 2002. Since then I have published countless articles in The Marquee Magazine and done some work for Jambase.com, SPIN Magazine, and various other outlets. I started Listen Up Denver! as a way to share the music information that is constantly spilling out of my head with people who care. Please enjoy!