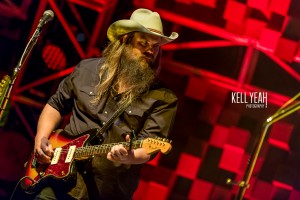 Photos by Kelly Hueseman
The Scene: Although he's been receiving industry recognition for almost a decade (Stapleton was first nominated for a Grammy Award in 2009), , the humble family man who has quickly rose to the top of the charts in country music, is loved not only by country music fans but by fans of all genres.  His deep voice is full of soul and has roots that are reminiscent of Johnny Cash, Merle Haggard, and the current Zac Brown of the Zac Brown Band.  Stapleton quickly sold-out two nights at Red Rocks this summer, which was certain to be recognized nationwide. Many fans traveled to Colorado to catch Stapleton at Red Rocks, while the rest of the crowd was made up of local fans of Country, Soul, and even Blues music.  We settled into our seats after a long wait in traffic to catch most of Brothers Osborne's opening set.
Openers: Lucie Silvas & Brothers Osborne.  While we heard parts of Lucie Silvas' set during our walk up the hill, Brothers Osborne was onstage by the time we found our seats.  Nothing would compare to the intensity of Chris Stapleton's prowess onstage, but Silvas certainly did her part singing harmonies and leading the crowd into a place where we were itching for more soul, more passion, and more heart. Fun fact: Silvas is married to John Osborne, lead guitarist and founder of Brothers Osborne.
Chris Stapleton: You'd be hard-pressed to find a better way to kick off Summer than dancing with your friends at Red Rocks to Chris Stapleton's signature hit, "Tennessee Whiskey." And the chaser to our whiskey-soaked night was that amazing Colorado weather that is quickly becoming less of a secret.
While Chris and his wife, Morgane Stapleton, took us away with them on a romantic, yet rockin' night of live music, the sold-out crowd kept the beers flowing and made sure the Stapleton's knew they were among friends in Colorado.
Chris Stapleton may be known for that raspy, sexy voice of his, but his guitar playing is not to be overlooked. His entire band really impressed me and I'll be looking out for their next stop in Colorado.
Chris Stapleton – May 24th – Red Rocks, Morrison, CO
Might As Well Get Stoned, Nobody to Blame, Midnight Train to Memphis (The SteelDrivers cover), Them Stems, Outlaw State of Mind, Death Row, Up to No Good Livin', Broken Halos, Whiskey and You, Daddy Doesn't Pray Anymore, Parachute, When The Stars Come Out, Second One To Know, You Are My Sunshine (Jimmie Davis cover; Morgane Stapleton on lead vocals), Hard Living, Traveller, Fire Away, Tuesday's Gone/The Devil Named Music (Unknown), Tennessee Whiskey (David Allan Coe cover)
Encore: Either Way, Sometimes I Cry
Energy: B
Musicianship: A-
Sound: A
Stage Presence: B
Set/Light Show: B
Overall: B+
After growing up in Missouri listening to vintage records of The Allman Brothers, Carly Simon, and Stevie Ray Vaughan, I was hooked to the live music scene and the contagious sounds of guitar licks and soulful lyrics. After moving to Colorado, I've been contributing to Listen Up Denver! as a freelance photographer and writer. I've also started a side project, KellYeah Photography, which gives me the opportunity to pair my passion for live music with my creativity and love of being around people. Aside from photography and writing, I'm an avid hiker of Colorado 14ers and a beer enthusiast.