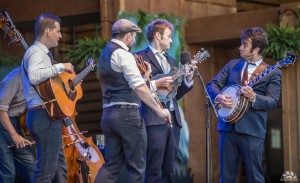 Photos by JohnRyan Lockman
On Thursday, June 15th, the main street of Colorado's most captivating town, was abuzz with an energy and excitement as the crowds (some there for days) made their way to Town Park for the start of the 45th Annual Telluride Bluegrass Festival. A generous community of locals welcomed the scene with open arms. Snowy peaks, forest green hillsides, and bright blue skies served as the welcoming backdrop to the next four days and nights. The stage was set.  The music, of course, served as the soundtrack, and like all good soundtracks, it encompassed a range of differing genres, moods, and tempos, all serving to underscore the many moments of the weekend.  There is no better setting for a music festival; there is no better music for such a setting.   A vibrant work of living art, curated by Planet Bluegrass, for the lucky to see.   May these highlights scratch the surface and do the weekend a little justice.
Welcome to Bluegrass: I was a late arriver as it took me all day to make it to Telluride.  But, when I did, I received a perfect welcome into the festival by the Telluride House Band (Sam Bush, Edgar Meyer, Bela Fleck, Jerry Douglas, and Stewart Duncan).  Masters of their craft, these five reunite in Telluride each year for a mixed up set of bluegrass standards, popular covers ("Back in the USSR"), and even surprise comedic numbers that had the crowd (and band members) laughing along rather than singing and dancing.  When Del McCoury joined in for a time, the set reached its peak.  The legendary collaboration closed the book on the festival's first day but whet my appetite for the rest of the weekend.
Early Afternoon Highlights: The after-lunch sets tend to have the potential to deliver the show-stealers of the weekends.  They're typically quite removed from bluegrass, dominated by profound songwriting, and able to rouse the crowd with soul-stirring moments.  Lindsay Lou and the Flatbellies at 1:00pm on Friday was no exception.  Hailing from Michigan, the band's lead singer evokes the style and sound of Lake Street Dive's Rachel Price, with a tad mellower vibe and even more touching and soulful songwriting. On Saturday, Rayland Baxter's set delivered my highlight of the weekend.  Recalling his early songwriting days not too far away in Creede, Colorado, the Nashville-based guitarist spanned the spectrum of vibes from soft and tender to heavy and rollicking, all accentuated with his ardent form of expressive songwriting.
A Little Bit of Country, a Little Bit of Rock and Roll: It seems like the revival of classic and outlaw country music has been building in Nashville for the last decade (thankfully), and emerging singers like Margo Price, while the product of such revival, also embody the reason why.  Powerful vocals with lyrics that tear at the heartstrings, an ability to raise a late afternoon crowd to its feet, coupled with flawless execution of the genre's classics (Kris Kristofferson's "Me and Bobby McGee," Rodney Crowell's "I Ain't Living Long Like This") had even the most traditional bluegrass and country fans energized for more.
Allman Brothers Tributes: Telluride Bluegrass is often an annual setting for the bittersweet tributes to musicians who have passed away in the past year. Sam Bush, forever the king of bluegrass, always seems to be the king of tributes as well.  Thus, I came into the fest expecting to hear the Sam Bush Band's renditions of some of the Allman Brothers classics in memory of the recently deceased Gregg Allman.  On Saturday night, his band kicked off a medley of tunes beginning with the Allman Brothers Band's "Whipping Post," running through some of Bush's originals, and culminating with "Midnight Rider," which served as a reprise to Greensky Bluegrass's Thursday night rendition of the same song that featured Sam Bush sitting in on fiddle.
Greensky Bluegrass: From the strength of their songwriting to song selection to, increasingly, the scale of their light show, Greensky Bluegrass has become one of the best at raising crowd expectations and then exceeding them.  Seeing that their Nightgrass show Thursday night at the Palm Theater was the hardest ticket of the weekend, the band stood up to deliver a rousing two setter, blending string music into psychedelic rock and all tones in between, inviting members of Fruition and Yonder Mountain String Band to the stage along the way for some memorable dueling solos with dobro player Anders Beck.  As Greensky continues to grow in the jam scene nationwide, the respect for those before them resonated through covers of Leftover Salmon's "Breaking Through" and the Grateful Dead's "Cassidy->The Other One->Cassidy," the second set closer.  What's more, their outdoor set on Friday provided a slightly different and more accessible crowd experience, relying more heavily on songs for their most recent album as well as staple festival covers like "Ain't No Bread in the Breadbox" (with special guest Bryan Sutton on electric guitar) and John Hartford's "Steam-Powered Aeroplane."
Norah Jones:  Though in some people's eyes Norah Jones did not seem to be the most fitting choice for the weekend in what might not have been the most suitable time slot, Jones and her band proceeded to lay down a diverse set of upbeat folk, lounge rock, and, of course, her signature vocals.  Jones alternated between grand piano and lead guitar while maintaining a strong and cheerful stage presence throughout.  Her set of covers (Neil Young, Grateful Dead) and originals provided a little something for all festival-goers.
Band Competition: Friday's Band Competition in Elks Park epitomizes the Colorado bluegrass music scene. With musicians travelling from all parts of the state and country to compete (including several from Colorado), the competition showcases the various strains of bluegrass that exist today, especially in Colorado, all rooted in acoustic instruments, harmonies, well-crafted lyrics but diversified enough to further expand this genre within itself.   A testament to the scene in the front range of Colorado, The Lonesome Days and Meadow Mountain, two competition finalists, hailed from Denver and focused on more traditional bluegrass. Sugar and the Mint, from Prescott, Arizona, took home first place honors with their pitch-perfect vocals and triple fiddle action, ensuring themselves an opening slot next year at the festival.
Elephant Revival: Colorado favorites hailing from Nederland, Elephant Revival, returned to Telluride this year to perform two sets (Saturday Nightgrass and Sunday at the Festival) of mesmerizing, upbeat, and beautiful songs before a captivated audience. Thoughtful lyrics, natural imagery, and a relaxed yet driven tone resonated throughout their set.  Bonnie Payne, dressed elegantly in all-white at stage center, sang her a cappella "Raven Song," which is haunting and beautiful and demanding of an outdoor festival crowd's silence.   The band's classic rock covers of "White Rabbit" and "Have a Cigar" further expanded the bounds of their performances each night.  To cap things off on Sunday, Elephant Revival welcomed up members of Fruition along with Abigail Washburn and her fellow "We the People" singers to create a stage filled with energy as they turned their classic "Grace of a Woman" into a world music dance party.