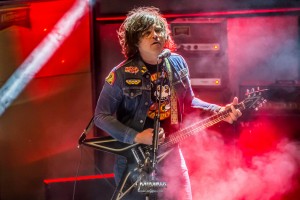 Photos by Jim Mimna
The Scene: Record temperatures descended on the Denver metro Tuesday. That didn't seem to affect the vibe of a mix of bluegrass and Ryan Adams fans at Red Rocks Tuesday night.
The Infamous Stringdusters.  The Infamous Stringdusters jammed through an eleven song opening set with all of the energy that I've come to expect from this band. Nicki Bluhm joined on vocals for mid-set takes on "Gravity" and "Building" before the boys served up covers of The Allman Brother's "Jessica" and Marvin Gaye's "What's Going On" that transitioned into "Black Elk." "Colorado" and "I Run To You" closed out an exciting set from one of my favorite bluegrass outfits. I'm looking forward to this band headlining Red Rocks!
Ryan Adams: I've always enjoyed his music, but have never been much more than a fringe Ryan Adams fan; listening to Heartbreaker when he comes up in conversation with friends or when I'm going down a rabbit hole of related artists. If any venue has the chance to change someone's mind about an artist, it's Red Rocks, and that's what happened Wednesday night when Adams took the stage at the storied venue with The Unknown Band.
From the first notes of "Do You Still Love Me?," Adams had the crowd in the palm of his hand. As a lightning storm danced over the Denver metro area, Adams and his band worked their way through a twenty song set that had this Ryan Adams newbie entirely satisfied. Red Rocks' famed acoustics are custom made for a single guitar and a voice like Adams', and he took full advantage by breaking up the set with solo acoustic takes on "Prisoner," "My Winding Wheel," "Doomsday" and the set closing "Come Pick Me Up."
Having worked with Nicki Bluhm and The Infamous Stringdusters in the past, it seemed almost a guarantee that we'd get at least one song with the Dusters joining Ryan on stage. That never happened, and was the only disappointment on an otherwise amazing night of music at the best venue on the planet.
Energy: B+
Musicianship: A
Sound: A
Stage Presence: B+
Set/Light Show: C+
Overall: B+