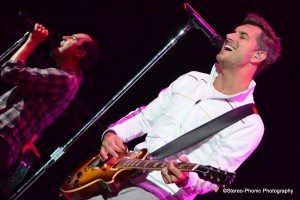 All Photos by Johne Edge
The Scene: "Summertime and the living's easy," no truer words may have ever been sung as Unity Tour 2011 rolled into Red Rocks Amphitheater on this mid August evening.   Red Rocks, a natural amphitheatre, deep set into the towering rocks outside of Morrison is as impressive to the eyes as it is to the ears. The crowd that showed up for this stop of Sublime with Rome and 311's thirty- five city summertime trek across the US was eclectic to say the least.  The rows were filled with teenagers and twenty somethings that were born around the time these bands began, and forty somethings that were twenty somethings when both bands played their first shows.   DJ Trichrome and DJ Soulman opened up the evening getting the crowd going with a mix of reggae, hip hop, break beats, and big base.  With music in the summer air, the crowd became united despite the age differences through drink, a little smoke, and a whole lot of dancing.
Sublime with Rome: The lineup that took the stage was comprised of drummer Bud Gaugh and bass player Eric Wilson – both founding members of  Sublime – along with singer and guitarist Rome Ramirez.  They opened up with "Smoke Two Joints" and finished with "Date Rape," and in between they played new songs from the album "Yours Truly" alongside long time fan favorites.  Bud and Eric played  with a renewed passion and spirit, effortlessly delivering the blend of ska, punk, dub, and reggae that has become known as the Sublime sound.  Gone was Rome Ramirez's reserved delivery from last year's tour.  In its place was a strong,  confident, and entertaining performance.   At only 22 years of age, Rome has matured into a real front man for the band.  The music being played was so good that not even the summer rain that began to fall could dampen the crowd's spirit.
311: The band's high intensity 25 song set began  with "Beautiful Disaster" and they then moved into some material from their new release  "Universal Pulse."  Later in the set they kept the crowd dancing with fan favorites "All Mixed Up," "Come Original," and "Amber."
After years of touring, 311 has developed the reputation as one of the most entertaining live bands in the US.  The Red Rocks set from this year's "Unity Tour" can only serve to strengthen that notion.
Energy: A
Sound: B+
Musicianship: A-
Stage Presence: A
Set / Light show: A-
Overall: A-
Wherever the music is, you'll find me with my camera, shooting on street corners, from barstools at clubs, from the side of the stage at theaters, and from photo pits in places like Red Rocks. Clicking away, trying to capture the emotive essence of music, and all those moments that we forget because of one too many Pabst Blue Ribbons.