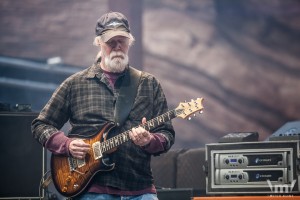 Photos by Mitch Kline
The Scene: Any outdoor show can be at least partially defined by the weather and, after a few days of stifling heat, the weather couldn't have been better for Widespread Panic fans ready to kick off three nights of Panic on The Rocks. The always lively lot scene was in good spirits, with fans sporting hoodies and long sleeves in the cool late afternoon sun.
Widespread Panic: By the time I saw Widespread Panic for the first time, in the fall of 1998, the band had already sold-out Red Rocks nine times. Friday night at Red Rocks was their 52nd consecutive sold-out show at the famed venue. It's an impressive accomplishment that no other band is likely to come close to in the foreseeable future. And it's not a fluke that these shows sell-out the instant that tickets go on sale. Panic fans are a dedicated lot, these shows bring together family and friends from across the country, and the band repays their fans with consistently solid shows at the venue.
From the first notes of "Postcard" it was obvious the band was prepared to serve up another memorable night. Their seventy minute first set was peppered with highlights, starting two songs in when the band dropped in to "Sell Sell" that transitioned into a fiery "Weight of the World." Panic, ever-so-keen on making connections through their songs, gave a nod to the recent weather, closing out the first set with "Big Wooly Mammoth" followed by a beast of a "Chilly Water" that clocked in at twelve minutes, with fans spraying water over the crowd throughout the song.
Second set opened with "Let's Get Down To Business," followed by a smoky take on Murray Mclauchlan's "Honky Red." While they didn't tie together the entire second set as they often do, once the band kicked into "Ain't Life Grand," it was non-stop through the set-closing "Blackout Blues."  A sure highlight of the set for me was a "Fishwater" sandwich that included "Pigeons" as the meat and a standout drum solo by the supremely talented Duane Trucks.
By the time the last notes of "Henry Parsons Died" were ringing off the walls, the venue was still mostly full, and the crowd was just as fired up as they were three hours earlier, proving once again that Red Rocks Amphitheater is the house of Widespread Panic.
Widespread Panic – 06/23/17 – Red Rocks, Morrison, CO
Set I: Postcard > Sell Sell > Weight Of The World, Better Off > Tortured Artist > Cease Fire > I'm Not Alone, Holden Oversoul > Big Wooly Mammoth > Chilly Water
Set II: Let's Get Down To Business, Honky Red, Imitation Leather Shoes, Machine > Barstools and Dreamers, Ain't Life Grand > Makes Sense To Me > One Kind Favor > Fishwater > Drums > Jam > Pigeons > Fishwater > Blackout Blues
Encore: Old Joe, Travelin' Light > Henry Parsons Died
[Entire show with Edie Jackson, sign language interpreter; 'New Speedway Boogie' rap by Dave during 'One Kind Favor']