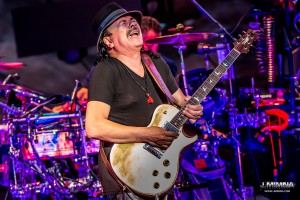 Photos by Jim Mimna
Carlos Santana played Red Rocks last Monday like he has so many times before.  Billed as "A Night with Carlos Santana," the overcast, wet night was filled with the hits, giant guitar solos, and the epic American songs that define Santana's legacy.  The night was truly a treat for fans and Carlos alike, as his love of the hallowed venue is no secret as he elaborated in this except from his forward written in the new book Red Rocks – The Concert Years by G. Brown.
"Red Rocks is not just dirt and stones and sky. It's a temple, a shrine. It's the same setting that the Greeks performed in at the beginning of civilization, and it definitely has the sacred American Indian spirit – you can feel the vibe. There's nothing like playing at Red Rocks Under a full moon. Anything can happen!"  – Carlos Santana
Capturing life in various forms is what I do. I consider myself an archivist by nature. It is not a career choice that I consciously made, but it is something that has called me. I strive to freeze a moment in time with every frame, a moment that can retell its story with each viewing, forever. I also have a deep passion for music and have been photographing and recording live music for years. Capturing the energy and magic of a live performance in a photograph is one of my passions. In addition, I enjoy photographing in a wide variety of settings, from wildlife scenes to family portraits and everything in between. I am a lover of the earthscapes that we see all around us every day, both natural and manmade, and aim to make unique images that do justice to their beauty. Where others see darkness, I see streaks of light through long exposures. I shoot a very wide variety of subject matter including individual/family portraits, event coverage, landscapes, live concert/performance, HDR, product and commercial photography, architectural, weddings, food, and editorial photo journalism. With artistic expression, I aspire to create visual art that speaks volumes.