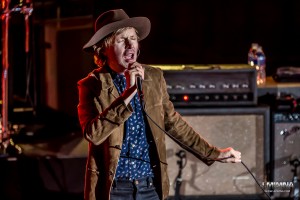 Photos by Jim Mimna
The Scene: Energy was high as we made our way up the stairs and into the hallowed confines of Red Rocks on Tuesday.  There was an electricity in the air even before the legendary Preservation Hall Jazz Band took the stage to warm up the crowd.  Beck was in the house and despite the fact that it was a Tuesday, everyone was on pins and needles in anticipation of what this musical chameleon would bring to the stage. While a light rain threatened to dampen spirits early on, the seasoned Red Rocks faithful were not to be deterred and only a few minutes after the music started, the rain drops faded into a memory and we were ready!
Opener: Preservation Hall Jazz Band. The boys from New Orleans took the stage right on time and within seconds there was no doubt that Beck and his team had made the right choice for an opener.  With classic Crescent City grooves, these guys whipped the place into a party in no-time flat!   Thumping bass lines, a rock solid back beat, and spirited horns put everyone on the rocks into the right frame of mind.  Don't miss these guys next time they come through town or, better yet, go see them on their home turf in the historic Preservation Hall in the French Quarter.
Beck: From the moment he took the stage behind the massive groove of "Devil's Haircut," Beck was on his "A Game."  The energy on The Rocks was electric as the 46 year old master of genre-bending acrobatics bounced through his 1994 mega-hit "Loser" before dropping the percussive beast that is "Black Tambourine."  It was clear from the get-go that this band wasn't holding back and the crowd was eating it up!
Throughout the set, Beck moved between electric and acoustic guitars and showcased his dominating stage presence as he strutted and danced from one side of the stage to the other with the microphone cable trailing behind him.  There is no doubt that this guy knows how to work the stage and his longtime backing band was right there to provide the soundtrack as they moved through favorites like "Qué Onda Güero" and "Think I'm In Love."
Though the entire set was powerful, my favorite portion of the evening came when Beck slowed things down a bit for a trio of songs from his 2014 masterpiece Morning Phase.  "Say Goodbye," "Heart is a Drum," and "Blue Moon" were just as mesmerizing live as I'd hoped they would be and, as the reverberations rang off the rocks, I was yet again reminded of what a special place Red Rocks is to see live music.
After the short respite for the dancers, the energy cranked back up for another one of my personal favorites, "Girl," and then a take on his new minimalist pop tune "Wow."  While "Wow" could be criticized for it's simplicity, there's no doubt it resonated with the crowd on this early summer night.  The main set wrapped up before I wanted it to with the lead track from 2005's Guero, "E-Pro" and we were reminded yet again that Beck's music has a timeless quality that is rarely equaled.
To my delight, when Beck and his band returned for the obligatory encore they were joined by Preservation Hall.  While I wasn't sure what this collaboration would yield, trust me when I tell you it was special.  I'll admit that if I'd been thinking, I would have guessed that one of the first choices for these two to work together on would be 1999's "Sexx Laws" and the legendary Jazz band fit in perfectly on classic tune.  "Where It's At" came as a little bit more of a surprise, but the boys from Preservation Hall proved they were up to the task as they reinvented the Hip-Hop anthem.  As the night wound down, Beck found time to wish Preservation Hall's Charlie Gabriel a happy birthday and we all sang happy birthday to the 85 year old saxman.
It was a magical night on The Rocks, and one I won't soon forget.
Energy: A
Musicianship: A-
Sound: A
Stage Presence: A
Set/Light Show: A-
Overall: A
Music has always been a part of my life. It probably all started listening to old Grateful Dead, Peter Paul & Mary, and Simon & Garfunkel records that my parents had, but it wasn't long before they were taking me to concerts like Starship, Crosby, Stills & Nash, and Huey Lewis & The News. I got the bug to write about music after reviewing an Eric Clapton concert for a creative writing project in high school but didn't really take it up seriously until 2002. Since then I have published countless articles in The Marquee Magazine and done some work for Jambase.com, SPIN Magazine, and various other outlets. I started Listen Up Denver! as a way to share the music information that is constantly spilling out of my head with people who care. Please enjoy!