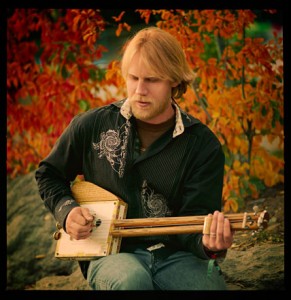 Join Colorado's John-Alex Mason for his  Denver Album Release Show at Quixotes.  Show starts at 9pm and is guaranteed to a barnburner of a good time!
John-Alex Mason is a one-man band from the front range of Southern Colorado.  His sixth full-length album is set to release 2/15/11.  Jook Joint Thunderclap is a world boogie collaboration of master players from Chicagoland, Holly Springs, Guinea and Colorado.  On this project Mason added djembe, bolofon, fiddle, mandolin, harmonica, bass and flos to his one-man band of kick drums, electric guitars and vocals.
John-Alex started as a singer, learned guitar to accompany himself and then added drums to get people dancing.  His live show is as musically compelling as it is visually stunning.  Strong hooks and great songcraft set the stage for him to explore deep delta and hill country blues grooves and his own brand of roots, rock and trance.  The more he plays the more jaws drop as he adds syncopation with his feet, scorching slide leads from his regular and cigar-box guitars and deeply soulful vocals that recall baptist moans and field hollers.
Without loops or recorded effects Mason takes fans on a journey weaving his original tunes and roots music into infectious jams and grooves.  Mason learned his craft on the street and in Juke Joints where the crowd is counted as active participant in the show rather than passive on-lookers.  John-Alex performs with joy, bringing the audience into his world where tone and poetry are paramount and rhythm is a way of life.
Mason continues to perform solo acoustic or on his electric rig and now often makes the call to include other players on his club shows including master drummer and dancer Fara Tolno on Djembe, IBC-winner Lionel Young on Fiddle and YouTube sensation Ronnie Shellist on Harmonica.
To recreate his unique and highly danceable sound from Jook Joint Thunderclapfor festivals and events, John-Alex prefers to bring a 4-piece including Lionel Young on Fiddle, BMA nominee Gerry Hundt on Mandolin, Harmonica, Bass and Guitar and Fara Tolno on Djembe.  The one-man band core does offer great flexibility, however, to fit budget and scheduling constraints playing solo, up to a quartet.
Mason's bond with Cedric and Cody Burnside continues beyond the studio and they welcome the opportunity to create unique jams whenever John-Alex Mason and the Burnside Exploration (Intrepid Artists) are on the same bill.
Mason loves his fans and loves to play and is therefore always available for radio and press interviews, promo appearances and cd signings. John-Alex endorses Category 5 Amps and National Resophonic Guitars.
Music has always been a part of my life. It probably all started listening to old Grateful Dead, Peter Paul & Mary, and Simon & Garfunkel records that my parents had, but it wasn't long before they were taking me to concerts like Starship, Crosby, Stills & Nash, and Huey Lewis & The News. I got the bug to write about music after reviewing an Eric Clapton concert for a creative writing project in high school but didn't really take it up seriously until 2002. Since then I have published countless articles in The Marquee Magazine and done some work for Jambase.com, SPIN Magazine, and various other outlets. I started Listen Up Denver! as a way to share the music information that is constantly spilling out of my head with people who care. Please enjoy!