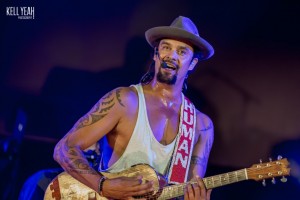 Photos by Kelly Hueseman
The Scene: While the last Wednesday night at Red Rocks Amphitheater was a rainy, chilly evening, the skies cleared Thursday as they always seem to when Michael Franti & Spearhead comes to town. Dozens of yogis made their way to Red Rocks early to practice some pre-concert "LOVE OUT LOUD" yoga with live music by Michael Franti and Vinyasa teachings by Gina Caputo, Founder and Director of the Colorado School of Yoga.
After the hour-long yoga class, music lovers made their march up the rocks to kick the night off with HIRIE, a reggae-pop band named after and fronted by the spiritual Hirie herself who leads this seven-piece band based in San Diego. Unfortunately we didn't make it to Red Rocks in time to hear HIRIE's set, so our focus was first on supporting act Trevor Hall.
Tonight would be my third time seeing Franti live, and I spent the drive to Red Rocks excitedly telling my friend what a great show she was about to see, as it was her first time seeing (and hearing) Franti's music. The crowd was as diverse as they come in Colorado, filled with a mix of ages, races, and abilities. One thing we all had in common was the smile on our faces as we anticipated a night of awesome music from three inspiring bands.
Opener: Trevor Hall. Roots & Reggae artist Trevor Hall grew up on Hilton Head Island in South Carolina, but now lives in Colorado with his wife, who he was celebrating their four-year anniversary with this very night. His piercing blue eyes and casual style captivated the crowd from the start, and each member of his band really shined on their respective instruments.
Early on his his set, the soothing rhythms of "Green Mountain State" brought the crowd of mountain-living music lovers into a peaceful trance. The song's lyrics speak to the beauty found in mountainous regions and was a perfect song choice for the inspiring setting of Red Rocks.
Hall's set included fan favorites such as "The Lime Tree," "For What It's Worth" (a Buffalo Springfield cover), and "Om Shakti Om," the latter of which his father, Jeff Hall, joined him onstage for. As any proud dad would, Mr. Hall exuberantly danced behind his son, working the crowd and joyously singing along with the fans to a song that nods to the influence of Trevor Hall's parents on his music. Fun fact – Trevor Hall learned how to play harmonica after finding his dad's harp in a drawer at his childhood home, after which he began joining his dad for gigs around town.
Trevor Hall has a unique ability of bridging the connection between music and spirituality. His songs, perfectly set amidst the mountainous glory of Red Rocks, made me feel grounded and connected to Colorado in a beautiful, inspiring way.
Michael Franti & Spearhead: A Michael Franti show is less like a concert and more like a spiritual experience. The best way I can describe it is that you leave feeling like you went to church. Not the kind of church Grandma drags you to, but rather an inspiring experience where your heart is filled with joy and you walk out with a new perspective on life. Imagine standing alongside 10,000 glowing faces while the preacher makes his way through the aisles, reaching out with both his music and his loving hands to tearful faces.
On Thursday night, Michael Franti was our preacher, and his message was all about love, peace, and acceptance. Donning a guitar strap with the word "HUMAN" embroidered on it, Franti often encouraged the crowd to hold hands with a stranger or link arms with one another, asking that no one be left out of this powerful moment of human connection. In one of these instances, the young woman I was linked up with to my right looked at me and said, "Just look around at all these people holding onto each other. This is incredible." As I peered over my shoulder and looked up from row 25 to the packed crowd behind me, it was impossible not to smile at the way Franti was able to bring all of us together, both physically and emotionally.
A multitude of special guests joined Franti onstage, including Taimane Gardner, an exuberant and extremely talented ukulele player from Hawaii who absolutely blew me away with her incredible energy and tireless strumming. The smile on Franti's face while this spirited island girl played her instrument said it all – the most joy we can feel comes when we bring joy to other people.
Other standout moments for me were when Nigerian-born drummer Manas Itiene stepped forward to share his authentic singing style rooted in African tribal influence. His voice is indescribable – unlike anything I've heard, yet exactly what my soul wanted to hear. Also amazing was a slowed-down version of "Hello Bonjour," in which Trevor Hall joined Franti to sing inspiring lyrics that aligned with the message of the night – "I don't need a passport to walk on this earth, anywhere I go cause I was made of this earth. I'm born of this earth, I breath of this earth, and even with the pain I believe in this earth."
As a photographer, I genuinely appreciated Franti's open photo policy, which allowed me to take photos throughout the entire show and capture every magical moment, like the end of his set when he invited all children in the audience to join him onstage. I joined an onslaught of kids bounding down the stairs to the stage, where I got an up-close look at pure excitement on the faces of kids who would remember this night for the rest of their lives.
I'm sure I wasn't the only adult in the crowd who felt the innocence of childhood again, while beach balls bounced above our heads and we threw our hands in the air without a care in the world. If you've been to a Michael Franti & Spearhead show before, you know the high likelihood of Franti leaving the stage to walk through the crowd and interact with his fans. He did so numerous times throughout the night, pausing at different spots to share stories, dance with his fans, and talk of his foundation, Do It For The Love, which he co-founded with his wife, Sara Agah Franti. The organization is focused on bringing the power of music to people and providing healing through the experience of live music.
Franti's unique way of welcoming everyone into the feeling of joy that seems to fill his heart is unlike any other artist out there. Rather than stealing the spotlight, he invites us all to feel special and loved, and it's obvious he thrives on giving us all the same feeling he has when onstage. From start to finish, his energy was high and he continued to find ways to surprise and delight us all. One of the most uplifting and joyful concerts I've attended, all I can say is…life is better with you, Michael Franti.
Energy: A+
Musicianship: A
Sound: A
Stage Presence: A+
Set/Light Show: A
Overall: A
After growing up in Missouri listening to vintage records of The Allman Brothers, Carly Simon, and Stevie Ray Vaughan, I was hooked to the live music scene and the contagious sounds of guitar licks and soulful lyrics. After moving to Colorado, I've been contributing to Listen Up Denver! as a freelance photographer and writer. I've also started a side project, KellYeah Photography, which gives me the opportunity to pair my passion for live music with my creativity and love of being around people. Aside from photography and writing, I'm an avid hiker of Colorado 14ers and a beer enthusiast.