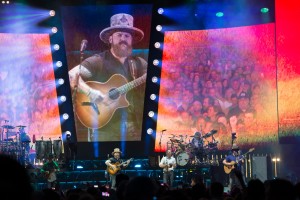 Photos by Ty Hyten
The Scene: Saturday night, for only the second time in Coors Field's twenty-two year history, a major concert rolled in, filling some forty thousand seats in the open air of downtown Denver.  The massive stage sat in the center of the outfield, and fans blanketed the whole of the field, minus the precious infield.  Even to a casual fan, the scale and setting alone was exciting. It had all the grandeur of a show at the Pepsi Center with the charm and comfort of a warm summer night in the open air.
The crowd was split into two camps of dress – cowboy hats, boots, jean skirts and pants, or mesh-backed baseball hats and flannels. Sadly there needed to be a sign at the gates informing fans that confederate flags weren't permitted. Along with the absence of the "stars and bars," it was refreshing not to see any of the red hats with white lettering that represent our divided country. There was only love on the field as friends returned, arms full, from the long beer haul to the concourse. It was a Saturday night country show, and people were drinkin'. It's not uncommon for a fan or two to want shoot the breeze while I'm waiting to take photos, but man-oh-man, were the Zac Brown Band fans friendly. Though they took several shapes and ages, they all had one common goal – to tell me how excited they were to see the show. The next few hours explained why.
Opener: Caroline Jones. As Snapchats were snapped and fans trickled out into the outfield and up to their seats at the highest reaches of the opposite end of the stadium, pop-country singer-songwriter Caroline Jones took to the massive stage solo. It's easy to see why Rolling Stone called her one of the "10 New Country Artists You Need To Know." Jones is an attractive young woman with a beautiful voice and the ability to write a tune that lands on the pleasure centers of pop-country fans. Her contagious smile showed her gratitude as her songs crescendoed into big choruses.
Opener: Darrell Scott. Though he looks like much less a product of the Nashville country music machine than Jones, Darrell Scott is actually a big part of it. He's written a handful of major country hits and has sat in as a session musician on many more. Saturday night's performance included "Long Time Gone," popularized by the Dixie Chicks, and a "It's a Great Day to Be Alive," commonly attributed to Travis Tritt, to name a few household tunes. Scott's resume is impressive, and you could hear that experience in the form of song. Highlights of his performance included the venerable "Will the Circle Be Unbroken" and a gorgeous "Colorado" which he wrote during a stay in Boulder Canyon. Scott's performance began quietly and as the set progressed, and member by member, pieces of Zac Brown Band joined until it was Zac Brown Band with Scott at the helm. Hot Rize member and radio host Nick Forster watched with satisfaction in from the crowd. Scott stuck around Colorado for another day to play the Rocky Grass Festival on Sunday, with Forster joining him.
Zac Brown Band: After Darrell Scott finished up, a large Zac Brown Band curtain lowered and distorted electric guitars could be heard quietly piped into the soundbooth over my shoulder. The sun had just set and large rain clouds hovered over the stage without releasing a drop. As the curtain rose, the blinding light of ZBB's multi-panelled video set illuminated the crowd. Brown walked back out in his giant Abe Lincoln/birthday-cake hat and the percussive upstrokes of "Keep Me In Mind" cut open the good times and the massive collection of hits that followed. The seven member band, joined by Darrell Scott, lit up the huge stadium right out the gate with the Jimmy Buffet-tinged hit "Toes."
An interesting portion of a ZBB show is the sprinkling in of a wide range of extremely well done covers. While numbers like Kings of Leon's "Use Somebody" and John Denver's "Rocky Mountain High" were good, the band really exploded on harder rocking covers, namely an extended "Whipping Post," with guitarists Coy Bowles and Clay Cook weaving together beautiful Allman Brothers style leads. Bowles and Cook are both arena quality shredders and Brown allowed them to showcase their abilities in a well rehearsed, but nevertheless satisfying, duel that ended with a cover of Guns N' Roses' "Paradise City." Another big crowd pleaser was Brown's "Free" into Van Morrison's "Into The Mystic." While I'd normally be suspect of a band whose show consists of roughly one-third covers, I couldn't knock them because that's what they've built their brand on and that's a portion of what makes them a stadium act.
They packed twenty-seven songs and a good eight or ten teases of others into the night and it wasn't all rock covers and uptempo radio hits. ZBB also shined on more sentimental songs like a beautiful "Colder Weather" (benefited by its Colorado storyline), "2 Places at 1 Time," and "All The Best" (John Prine). Even from my vantage point at the very top of the opposite end of the stadium, the sound was shockingly perfect. And though Zac Brown and company looked like LED ants, the gigantic monitors, lights, and fantastic sound and deep catalog of hits made the impossibility of getting up to get another beer just fine by me. There was something pretty powerful about the night. It think it was a combination of the instant likability of Brown's songs, his deeply stacked band, and the power of enjoying music with forty thousand happy fans under a mild July evening.
Energy: A+
Musicianship: A
Sound: A
Stage Presence: A
Set/Light Show: B+
Overall: A