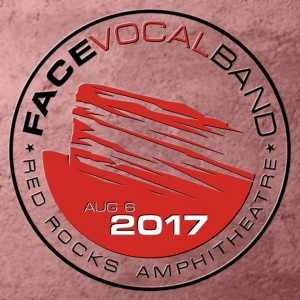 Internationally acclaimed all-vocal rock band, Face, will be headlining world-renowned Red Rocks Amphitheatre August 6, 2017.  The Boulder, CO based band regularly performs to sold out crowds at venues such as Paramount Theatre, Boulder Theater, Soiled Dove Underground, Ellie Caulkins Opera House, Pepsi Center, and Sports Authority at Mile High Field.  Face has been together for nearly 16 years and continue to play around 100 shows a year.  Face has also competed on hit NBC series The Sing Off and shared the stage with legendary performers including Jon Bon Jovi, The Wailers, Robin Thicke, Jay Leno, among others. From Pink Floyd, to Mumford & Sons, to Maroon 5, the band covers music that the whole family can enjoy.
The show is not only the band's debut performance at Red Rocks, but is also serving as a benefit concert to raise money to create grants for school music programs across Colorado, and is also presenting the opportunity for three local bands to open for them.
Face recently held a competition to decide which lucky bands would get to open for them and perform on the legendary Red Rocks stage. The chosen bands include: Dearling, Mr. Majestyk's 8 Track Revival, and Spinphony.
Dearling describes their music as, "Colorado country music.  A little alternative, a little folk, a little rock, and very country with as much soul in the lyrics as the melodies." The band is inspired by Fleetwood Mac, Chris Stapleton, Emmy Lou Harris, and Travis Meadows.

dearling.virb.com/
Mr. Majestyk's 8 Track Revival has been included in Ten of the Best Cover Bands in Colorado by Denver's Westword Magazine. The band performs rock and pop masterpieces from from the 1970's including tunes from ELO, Alice Cooper, and Led Zeppelin.

www.mm8tr.com/
Spinphony is a cutting edge classical pop fusion group consisting of four virtuosic string players and a DJ. The group creates fresh new takes on on classics by mashing them up with rock and pop, while adding high energy orchestrated backing tracks from the DJ.

www.spinphonystrings.com/
Face will be using this show to raise money by donating $5 of every ticket sold to support Colorado music education as they have a profound love for their state and are passionate about increasing funding for the arts in schools. To-date Face has already raised over $15K to go towards grants for music education in Colorado schools.