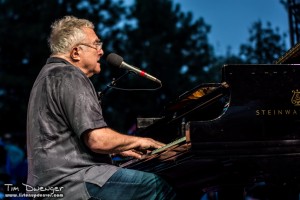 Photos by Tim Dwenger
The Scene: There's no skirting the issue here, this was one of the wettest concerts I've ever been to – hands down.  It wasn't just wet, it was downright soggy.  That said, people were prepared and I saw more rain pants and rubber boots than I thought existed in Colorado (as we are known for our 300 days of sun per year).  Umbrellas, tarps, and rain gear were critical elements to enjoying this concert and while a good number of folks clearly stayed home, I'd say about two-thirds of the ticket holders showed up and took their spots on the Botanic Gardens lawn for a night with the incomparable song-writer Randy Newman.
Randy Newman: After being shuttled to the stage in a golf cart, Newman took the stage shortly after 6:30 as fans tried to keep their cheese and crackers out of the incessant rain.  While it had abated for a bit as we all set up our picnics (I admit that I secured space under the big tent at the top of the amphitheater) as soon as showtime arrived the heavens opened again and didn't let up until Newman said "good-night."
Despite the delay speakers, and partially due to casual chatter echoing off the vinyl, from my spot in the tent it was a little bit difficult to hear Newman's trademark satirical and witty songs.  That said I did catch "It's Money That I Love" and most of "Short People" as I dodged raindrops while taking pictures from the lip of the stage.  When I got back to our tarp I was just in time to be reminded that it was in fact Newman, and not Three Dog Night, who wrote one of my favorite tunes of all time; "Mama Told Me (Not To Come)."  While Newman's reading of the tune doesn't have the same feel as the Three Dog Night version, it was a treat to hear him deliver the classic.
Shortly after this 70's psychedelic gem, my four year old daughter's face lit up and she raced down the hill into the rain to hear "You've Got a Friend in Me" from the beloved Toy Story movie.  With her reason for coming satisfied, she returned to playing and diverting the ever encroaching rivers of rain water as Newman ran through classics like "You Can Take Your Hat Off" and "Feels Like Home" alongside the very appropriate (given the current political and meteorological conditions) "Let's Drop The Big One" and "Louisiana 1927."
In the end I have to say that while I'm not 100% sure it was worth it to brave the rain and attempt to fight off inevitable wetness to catch this show, it did give me a renewed appreciation for both the devoted music fans of this town and the genius of the Randy Newman songbook.
Energy: C
Musicianship: B
Sound: B
Stage Presence: B
Set/Light Show: B+
Overall: B
Music has always been a part of my life. It probably all started listening to old Grateful Dead, Peter Paul & Mary, and Simon & Garfunkel records that my parents had, but it wasn't long before they were taking me to concerts like Starship, Crosby, Stills & Nash, and Huey Lewis & The News. I got the bug to write about music after reviewing an Eric Clapton concert for a creative writing project in high school but didn't really take it up seriously until 2002. Since then I have published countless articles in The Marquee Magazine and done some work for Jambase.com, SPIN Magazine, and various other outlets. I started Listen Up Denver! as a way to share the music information that is constantly spilling out of my head with people who care. Please enjoy!